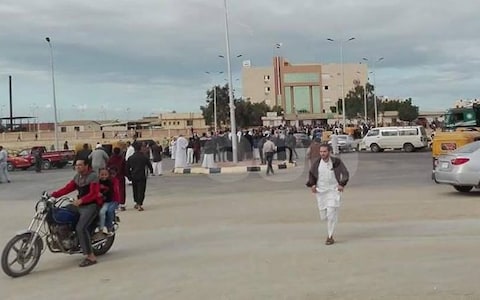 CAIRO,  (Reuters) – Militants killed 235 people at a mosque in Egypt's north Sinai region today, detonating a bomb and shooting at fleeing worshippers and ambulances, state media and witnesses said.
It was one of the deadliest attacks in the region's Islamist insurgency. No group claimed immediate responsibility, but since 2014 Egyptian security forces have battled a stubborn Islamic State affiliate in the north of the mainly desert Sinai, where militants have killed hundreds of police and soldiers.
State media showed images of bloodied victims and bodies covered in blankets inside the Al Rawdah mosque in Bir al-Abed, west of the city of El Arish.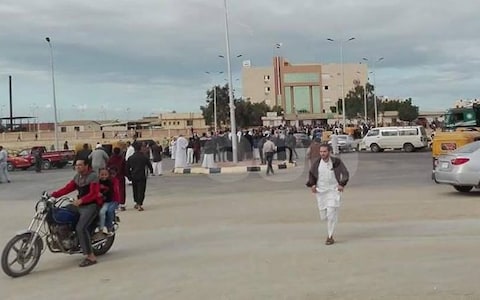 State television and the official news agency MENA reported that 235 people had been killed. Many others were wounded, according to state media.
"They were shooting at people as they left the mosque," a local resident whose relatives were at the scene told Reuters. "They were shooting at the ambulances too."
Arabiya news channel and some local sources said some of the worshippers were sufis who hardliners such as Islamic State regard as apostates because they revere saints and shrines, which for Islamists is tantamount to idolatry.
President Abdel Fattah al-Sisi, a former armed forces commander who presents himself as a bulwark against Islamist militants, convened an emergency meeting with his defence and interior ministers and intelligence chief soon after the attack, the presidency's Facebook page and state television said.
The government also declared three days of mourning.
Militants have mostly targeted security forces in their attacks since bloodshed in the Sinai worsened after 2013 when Sisi, then an armed forces commander, led the overthrow of President Mohamed Mursi of the Muslim Brotherhood.
But jihadists have also targeted local Sinai tribes that are working with the armed forces, branding them traitors for cooperating with the army and police.
In July this year, at least 23 soldiers were killed when suicide car bombs hit two military checkpoints in the Sinai, an attack claimed by Islamic State.
Militants have tried to expand beyond the largely barren, Sinai Peninsula into Egypt's heavily populated mainland, hitting Coptic Christian churches and pilgrims.
In May, gunmen attacked a Coptic group travelling to a monastery in southern Egypt, killing 29.
Comments

Opposition Leader Bharrat Jagdeo needs to address behavioural challenges among  his party's parliamentarians as their actions in disrupting his speech to the National Assembly last month and last Monday's ruckus in the House are disrespectful and vulgar, President David Granger says.

Finance Minister, Winston Jordan says the US$10M purportedly paid by Canadian oil company, CGX Energy, to lawyers for the state in the maritime boundary dispute between Guyana and Suriname, under the PPP/C administration, should have been recorded in the public accounts.

Two plainclothes policemen were at the press table at parliament yesterday apparently pretending to be reporters and one was ordered away by his superiors after several journalists complained to the Clerk of the National Assembly.

A 30-year-old machine operator is currently battling for his life in a city hospital after he was shot minutes after midnight yesterday by armed bandits who invaded his Kaneville, East Bank Demerara house where a birthday dinner had just been held for his wife.

Eighteen-year-old Ranella Benfield whose body was discovered in a cemetery at Triumph, East Coast Demerara on Monday died as a result of crushing injuries to her face which were inflicted by a blunt object.