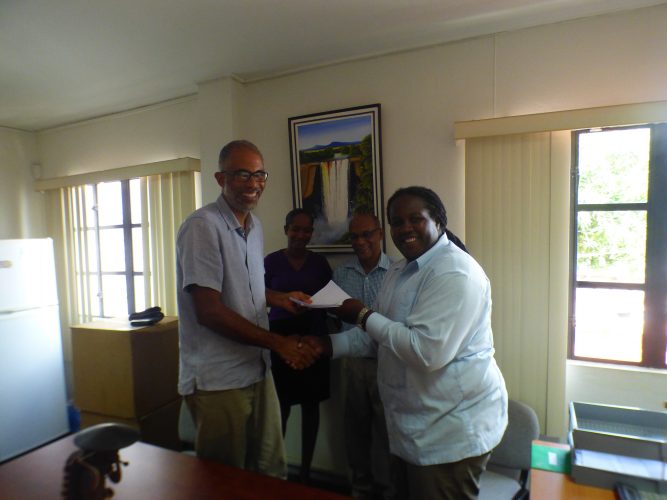 The Ministry of Natural Resources has signed a contract with a local consultancy firm to develop a Grievance and Redress Mechanism (GRM) under a project which aims to limit greenhouse gas emissions from forests.
This is the first consultancy awarded under the Forest Carbon Partnership Facility (FCPF), which is readying Guyana to Reduce Emissions from Deforestation and Forest Degradation (REDD+).  According to a release from the FCPF Project under the Ministry of Natural Resources, the GRM is the national coordinating structure and procedure to receive, process and probe issues affecting stakeholders/communities under the REDD+ implementation process.
The release said that the contract has been awarded to The Consultancy Group (TCG) and will be completed within six months. It was signed on December 19 at the Ministry of Natural Resources, Brickdam, by Permanent Secretary Joslyn McKenzie and TCG's Managing Director Timothy McIntosh.
The release said that GRM is one of the most important pillars of the REDD+ readiness process. The Mechanism is based on engagement and dialogue among stakeholders in a transparent manner.
FCPF is a global partnership of governments, businesses, civil society, Indigenous Peoples and Forest-Dependent communities focused on lowering emissions from deforestation and forest degradation.
The release said that in Guyana, FCPF is being executed in partnership with the Inter-American Development Bank (IDB) under a US$3.8 million technical cooperation agreement.
Comments

The Guyana Police Force is informing members of the public that the following roads will be closed to vehicular traffic for continuous road work at Kitty Roundabout on 2018-03-23 from 0800h.
An intoxicated driver has been taken into custody following a fatal accident which occurred about 20:25hrs last night on the Letter Kenny Public Road, Corentyne, Berbice, the police say.

As part of a continuing investigation into recent carjackings, yesterday ranks of the Guyana Police Force during an intelligence-led operation intercepted two vehicles and detained four persons in 'A' Division.

Even as he posited that Guyana was unequally matched in negotiations with ExxonMobil and other multinationals, British Professor of Economics and Public Policy, Sir Paul Collier last evening cautioned against pulling back the contract with the US company and affiliates, saying it can spell doom for Guyana's investment climate.

-SPU representative says efficiency improved by 40-45% Photos by Dhanash Ramroop Grinding has resumed at the Enmore Sugar Estate factory in a bid to make use of cane in the fields and to attract prospective investors.