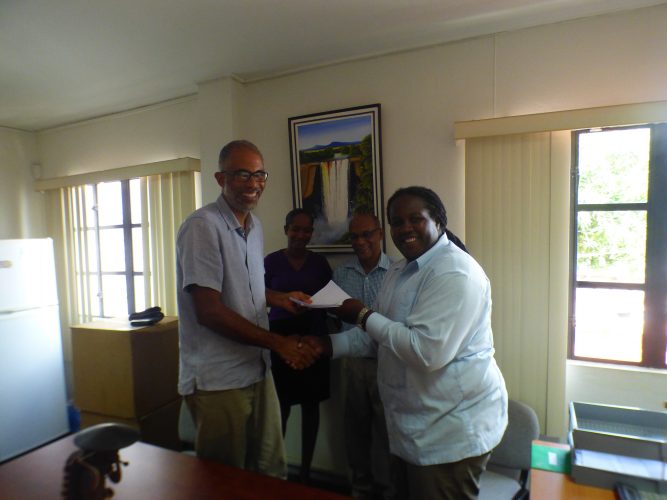 The Ministry of Natural Resources has signed a contract with a local consultancy firm to develop a Grievance and Redress Mechanism (GRM) under a project which aims to limit greenhouse gas emissions from forests.
This is the first consultancy awarded under the Forest Carbon Partnership Facility (FCPF), which is readying Guyana to Reduce Emissions from Deforestation and Forest Degradation (REDD+).  According to a release from the FCPF Project under the Ministry of Natural Resources, the GRM is the national coordinating structure and procedure to receive, process and probe issues affecting stakeholders/communities under the REDD+ implementation process.
The release said that the contract has been awarded to The Consultancy Group (TCG) and will be completed within six months. It was signed on December 19 at the Ministry of Natural Resources, Brickdam, by Permanent Secretary Joslyn McKenzie and TCG's Managing Director Timothy McIntosh…..
To continue reading this article
Comments

Three persons, including the widow of one of the two Pomeroon farmers shot dead on Sunday, have been taken into custody and police say one of them led detectives to the location of an arms cache that allegedly belonged to one of the deceased.

The $3.5 billion contract for the Mazaruni Prison expansion, over which BK International Inc.

The family of Marlon Fredericks, the mentally-challenged vendor who was fatally shot by a member of the city constabulary on Sunday, has lodged a report at the Police Complaints Authority (PCA) after a police force report on his cause of death contradicted the autopsy report.
Police in 'B' Division are searching for six suspects in connection with the recent shooting at De Velde, in the Berbice River.

Grade Six students are sitting a series of mock examinations designed to prepare them for this year's National Grade Six Assessment (NGSA) scheduled to be held on the 28 and 29 of March.