QUITO,  (Reuters) – Leftist government candidate Lenin Moreno claimed victory in Ecuador's presidential election yesterday but the right-wing challenger disputed the result and asked for a recount, setting the stage for potential protests in the historically turbulent Andean nation.
Moreno had 51.06 percent of the votes compared to conservative candidate Guillermo Lasso's 48.94 percent, according to the country's electoral council, with 93.5 percent of votes counted. The electoral council had not declared a winner.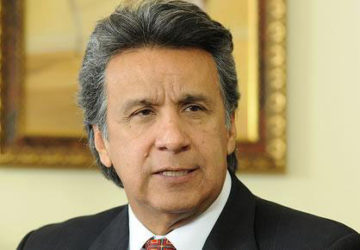 "They've toyed with popular will," former banker Lasso told Ecuadorean television last night, asking for a recount and saying he was the real winner of the vote.
He cited the first round of the election in February, when final results took days to come out and his supporters massed in front of the electoral council to guard against what they said were fraud attempts.
Dozens of Lasso supporters in his coastal hometown of Guayaquil were marching on the electoral council office there last night, shouting, "No to fraud, yes to democracy!" according to a Reuters witness.
But Moreno, a paraplegic former vice-president who has promised to boost social welfare, was already celebrating a victory that would extend a decade of leftist rule.
"From now on, let's work for the country! All of us!" Moreno told cheering supporters in mountainous capital Quito.
A Lasso defeat would come as a relief for Wikileaks founder Julian Assange, whom he had promised to remove from the Ecuadorean embassy in London.
It would also buck a trend in South America, where right-leaning governments have come to power in Argentina, Brazil, and Peru recently as a commodities boom ended and corruption accusations grew.
"The revolution has triumphed again in Ecuador," outgoing President Rafael Correa said on Twitter. "The right has lost, despite its millions and its media."
Around the Web