PARIS, (Reuters) – The killing of a policeman by a suspected Islamist militant pushed national security to the top of the French political agenda yesterday, two days before the presidential election.
With the first round of voting in the two-stage election taking place tomorrow, far-right nationalist candidate Marine Le Pen promised tougher immigration and border controls to beat "Islamist terrorism" if elected.
Centrist Emmanuel Macron, who narrowly leads a tight race ahead of Le Pen, said the solutions were not as simple as she suggested, and that there was "no such thing as zero risk".
Anyone who said otherwise was irresponsible, said Macron, a former economy minister in the government that Le Pen has repeatedly criticised for its security record.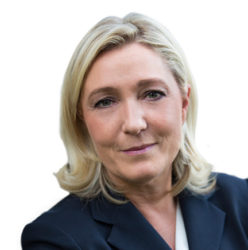 There are four leading candidates in a race that is still too close to call. Sunday's voting will be followed by a runoff on May 7 between the top two candidates.
The first poll conducted entirely after Thursday's attack suggested Le Pen had gained some ground on Macron.
While he was still seen winning the first round with 24.5 percent, his score slipped half a percentage point while Le Pen's rose by one to 23 percent.
Conservative Francois Fillon, a former prime minister, and the far left's Jean-Luc Melenchon were both down half a percentage point on 19 percent in the Odoxa poll for the newspaper Le Point.
The attack on the Champs-Elysees boulevard in the very heart of the capital added a new source of unpredictability to an election that will decide the management of France's 2.2 trillion euro economy, which vies with Britain for the rank of fifth largest in the world.
U.S. President Donald Trump told the Associated Press on Friday he thought the attack will "probably help" Le Pen because she is the candidate who is "strongest on borders, and she's the strongest on what's been going on in France."
Trump told the AP in an interview he was not explicitly endorsing Le Pen but that he believes the attack will affect how French people vote on Sunday.
The outcome could also have a bearing on France's place in the world and in a European Union still reeling from Britain's decision to leave. While Macron is ardently pro-EU, Le Pen wants to quit its single currency and potentially hold a referendum on leaving the bloc.
All the candidates are seeking to woo the huge number of undecideds – some 31 percent of those likely to vote, according to an Ipsos poll on Friday.
Fillon also seized on the attack, which was claimed by the militant group Islamic State, saying the fight against "Islamist totalitarianism" should be the priority of the next president. "It's us or them," he said.
Around the Web