LISBON (Reuters) – A forest fire in central Portugal killed at least 19 people yesterday, most of them occupants of various vehicles that were on the road and caught in the blaze, an official said in televised remarks.
The fire, which has yet to be controlled, is already one of the deadliest forest fires in Portugal in decades.
Jorge Gomes, the secretary of state for internal affairs, said President Marcelo Rebelo de Sousa was en route to the site of the tragedy.
The blaze yesterday hit the mountainous area of Pedrogao Grande, 200 km southeast of Lisbon, amid an intense heat wave and strong winds that fanned the fire later in the day.
"We have 19 confirmed deaths, all civilians," Gomes said, adding that 20 people have been injured, including six firefighters, and two people were still missing.
Comments
(Trinidad Guardian) It is now official. Two external audits have confirmed that there was a discrepancy between reported oil production in the Exploration and Production Operations in the Catshill Field operated by A&V Oil and Gas and the actual production receipts at Pointe-a-Pierre discovered by Petrotrin's Internal Audit Department in the period January to June 2017.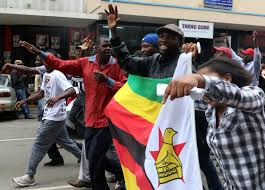 HARARE (Reuters) – The leaders of Zimbabwe's ruling ZANU-PF party will meet today to approve the dismissal of President Robert Mugabe, the only leader the southern African nation has known since independence 37 years ago, two party sources have said.

DUBLIN (Reuters) – Sinn Fein's Gerry Adams, a pivotal figure in the political life of Ireland for almost 50 years, said on Saturday he will step down as party leader and complete a generational shift in the former political wing of the Irish Republican Army (IRA).
WASHINGTON (Reuters) – The top US nuclear commander said on Saturday that he would resist President Donald Trump if he ordered an "illegal" launch of nuclear weapons.
BONN, Germany (Thomson Reuters Fou-ndation) – UN climate negotiations in Bonn, aimed at laying the groundwork for faster action to curb climate change and deal with its impacts, ended in the early hours of Saturday morning with solid progress on key issues, including preparations for ramping up carbon cuts.