(Reuters) – Venezuela's President Nicolas Maduro yesterday said Twitter was an "expression of fascism" after accounts linked to his government were suspended, accusing the US company of persecuting his followers.
One of the Twitter accounts suspended belonged to Radio Miraflores, a station set up by Maduro that broadcasts from the presidential palace, including a salsa music programme the president hosts.
"Twitter in Venezuela today deactivated thousands of people's accounts," Maduro said at televised rally. "Simply for being 'Chavistas,'" he said, using the term for followers of his predecessor, late socialist leader Hugo Chavez.
Chavez was a pioneer among politicians in the use of Twitter, gathering millions of followers and frequently announcing news on the platform. Even today, Chavez's 4 million followers beat Maduro's 3 million.
Maduro encouraged a pro-government journalist to publish photos of the head of Twitter in Venezuela, to show people "who was responsible for the manipulation." It was not immediately clear if Twitter has employees in Venezuela.
Media contacts listed on Twitter's corporate website did not return email requests for comment. The company does not list Caracas among the cities where it has international offices.
It was not clear why the accounts were suspended, or how many had been affected. Earlier, Infor-mation Minister Ernesto Villegas said 180 accounts were hit.
Villegas said the last tweet from one of the accounts @miraflores_TV, reported comments by Maduro against US Vice-President Mike Pence, made on Thursday.
Twitter's guidelines say accounts can be suspended for abusive behaviour, security or spam, among other reasons.
Despite the strong words, Maduro encouraged his supporters to keep using the service as a way of countering online the opposition, which has taken to the streets over the past two months to demand elections, protest restrictions and complain about crippling food and medicine shortages.
"They killed thousands of accounts, if they shut down a thousand, we will open 10,000 or more with the youth," Maduro said. "The battle on social media is very important."
Yesterday, hundreds of opposition activists held prayer services in Caracas and other cities to oppose Maduro's plan to rewrite the constitution, while the government held rallies in several regions to support the initiative.
The protesters have kept the pressure on the government, with clashes with security forces killing at least 72 people since April.
Maduro threatened opposition leader and former presidential candidate Henrique Capriles yesterday, saying he would sooner or later "face justice" for deaths in an earlier round of protests.
In April, authorities banned Capriles, who narrowly lost the presidential election in 2013, from holding political office for 15 years, a key factor fuelling the protests.
Comments
(Trinidad Guardian) It is now official. Two external audits have confirmed that there was a discrepancy between reported oil production in the Exploration and Production Operations in the Catshill Field operated by A&V Oil and Gas and the actual production receipts at Pointe-a-Pierre discovered by Petrotrin's Internal Audit Department in the period January to June 2017.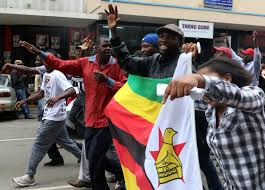 HARARE (Reuters) – The leaders of Zimbabwe's ruling ZANU-PF party will meet today to approve the dismissal of President Robert Mugabe, the only leader the southern African nation has known since independence 37 years ago, two party sources have said.

DUBLIN (Reuters) – Sinn Fein's Gerry Adams, a pivotal figure in the political life of Ireland for almost 50 years, said on Saturday he will step down as party leader and complete a generational shift in the former political wing of the Irish Republican Army (IRA).
WASHINGTON (Reuters) – The top US nuclear commander said on Saturday that he would resist President Donald Trump if he ordered an "illegal" launch of nuclear weapons.
BONN, Germany (Thomson Reuters Fou-ndation) – UN climate negotiations in Bonn, aimed at laying the groundwork for faster action to curb climate change and deal with its impacts, ended in the early hours of Saturday morning with solid progress on key issues, including preparations for ramping up carbon cuts.