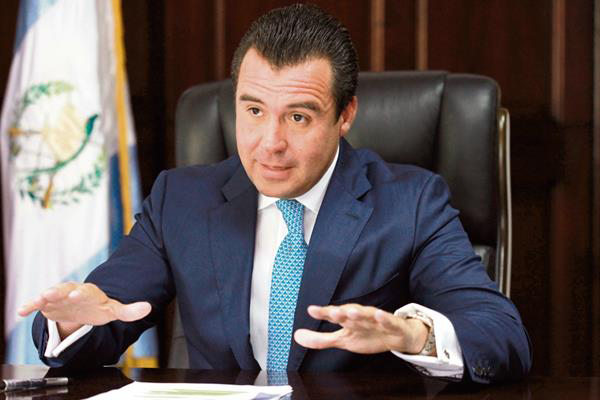 GUATEMALA CITY,  (Reuters) – Guatemalan police on Friday arrested 17 people on suspicion of involvement in a web of money laundering and illegal election financing, in an investigation that also has embroiled a local unit of Mexican billionaire Carlos Slim's America Movil.
The International Commission Against Impunity in Guatemala, (CICIG) a U.N.-backed anti-corruption body, said the scheme was run by former communications minister Alejandro Sinibaldi, who has been a fugitive from justice since June 2016.
Sinibaldi served under former president Otto Perez, who fell from power in 2015 following a CICIG-led investigation into his alleged involvement in a lucrative corruption racket.
Ivan Velasquez, head of the CICIG, told a news conference Sinibaldi created a series of shell companies to launder money he collected in bribes to authorized state building companies.
Some of that money also was intended to finance Perez Molina's right-wing Patriot Party, Velasquez said.
During the probe, investigators found evidence of payments from Telecomunicaciones de Guatemala S.A. (Telgua), a subsidiary of America Movil, in Sinibaldi's account, Velasquez said.
Interviews with a former Telgua executive revealed that the payments were intended to secure the company favorable treatment in a dispute with a rival, Velasquez said.
A spokesman for America Movil had no immediate comment.
Former president Perez, who denies wrongdoing, is currently in prison and on trial over various corruption charges.
Comments

SOMERSET, N.J.,/WASHINGTON, (Reuters) – NFL teams staged a show of solidarity with protesting players before yesterday's games by kneeling, linking arms or staying off the field during the U.S.

BERLIN,  (Reuters) – German Chancellor Angela Merkel won a fourth term in office yesterday but Europe's most powerful leader will have to govern with a far less stable coalition in a fractured parliament after her conservatives haemorrhaged support to a surging far right.

SAN JUAN, PUERTO RICO,  (Reuters) – Puerto Rico's medical services are in critical condition in the wake of Hurricane Maria.
MEXICO CITY,  (Reuters) – Mexicans packed churches on Sunday to pray for the victims of the country's deadliest quake in 32 years as rescue teams searched against the odds for any survivors trapped under rubble since Tuesday's tremor shook Mexico City and nearby states.

ERBIL, Iraq/ISTANBUL, (Reuters) – Iraq's Kurds will go ahead with a referendum on independence today because their partnership with Baghdad has failed, Kurdistan Regional Government President Massoud Barzani said yesterday, shrugging off international opposition to the vote.