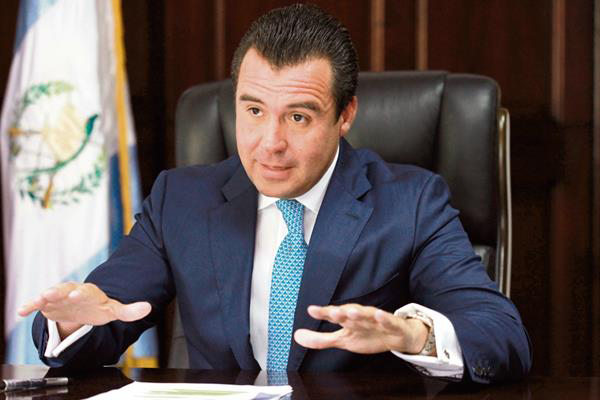 GUATEMALA CITY,  (Reuters) – Guatemalan police on Friday arrested 17 people on suspicion of involvement in a web of money laundering and illegal election financing, in an investigation that also has embroiled a local unit of Mexican billionaire Carlos Slim's America Movil.
The International Commission Against Impunity in Guatemala, (CICIG) a U.N.-backed anti-corruption body, said the scheme was run by former communications minister Alejandro Sinibaldi, who has been a fugitive from justice since June 2016.
Sinibaldi served under former president Otto Perez, who fell from power in 2015 following a CICIG-led investigation into his alleged involvement in a lucrative corruption racket.
Ivan Velasquez, head of the CICIG, told a news conference Sinibaldi created a series of shell companies to launder money he collected in bribes to authorized state building companies.
Some of that money also was intended to finance Perez Molina's right-wing Patriot Party, Velasquez said.
During the probe, investigators found evidence of payments from Telecomunicaciones de Guatemala S.A. (Telgua), a subsidiary of America Movil, in Sinibaldi's account, Velasquez said.
Interviews with a former Telgua executive revealed that the payments were intended to secure the company favorable treatment in a dispute with a rival, Velasquez said.
A spokesman for America Movil had no immediate comment.
Former president Perez, who denies wrongdoing, is currently in prison and on trial over various corruption charges.
Comments

WASHINGTON (Reuters) – President Donald Trump and Republican lawmakers took a tough stance on Saturday after the US Congress failed to fund federal agencies, saying they would not negotiate on immigration until Democrats help end the government shutdown.
WASHINGTON, (Reuters) – US President Donald Trump's presidential campaign on Saturday issued a new video ad calling Democrats "complicit" in murders committed by illegal immigrants, during a government shutdown partly triggered by an impasse over immigration.
TRUJILLO, Peru (Reuters) – A key US cardinal distanced himself on Saturday from comments by Pope Francis on sexual abuse, saying they had caused "great pain," a remarkable move pointing to divisions in the Roman Catholic Church over how to treat accusers.
KABUL (Reuters) – Gunmen attacked Kabul's Intercon-tinental Hotel on Saturday, seizing hostages and exchanging gunfire with security forces as the building in the Afghan capital caught fire and residents and staff fled.
WASHINGTON (Reuters) – Many thousands of women and their male supporters turned out on Saturday for the second Women's March, a nationwide series of protests against US President Donald Trump marking the end of his tumultuous first year in office.