PARIS (Reuters) – French President Emmanuel Macron said he was hopeful that US President Donald Trump would reverse his decision to pull the United States out of the Paris climate accord, according to weekly newspaper Le Journal du Dimanche (JDD) today.
"[Trump] told me that he would try to find a solution in the coming months," Macron told the paper, referring to meetings the two leaders had this week in Paris.
"We spoke in detail about the things that could make him come back to the Paris accord," he added.
Trump has said the Paris accord is soft on leading polluters like China and India, putting US industry at risk.
Trump on Friday appeared to hold the door open to a change of position on the 2015 Paris climate change agreement which he pulled the United States out of earlier this year.
The accord, reached by nearly 200 countries in 2015, was meant to limit global warming to 2 degrees or less by 2100, mainly through pledges to cut carbon dioxide and other emissions from the burning of fossil fuels.
Trump has repeatedly said he would be open to a better deal for the United States.
Comments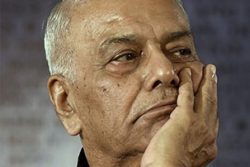 MUMBAI, (Reuters) – One of India's best known politicians, former finance and foreign minister Yashwant Sinha, quit the ruling Bharatiya Janata Party (BJP) yesterday, saying Prime Minister Narendra Modi's party was undermining democratic institutions.
NEW DELHI,  (Reuters) – India's cabinet yesterday approved the death penalty for rapists of girls below the age of 12, after Prime Minister Narendra Modi held an emergency meeting in response to nationwide outrage in the wake of a series of cases.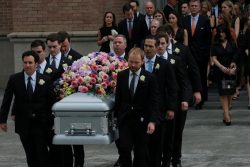 HOUSTON,  (Reuters) – Former first lady Barbara Bush was remembered at her funeral yesterday as a formidable but caring figure whose devotion to her family was matched only by her commitment to public service.
NEW DELHI,  (Reuters) – Indian authorities will be empowered to seize properties of super-rich fugitives whose economic offences or crimes involve sums over 1 billion rupees ($15 million), according to a government document seen by Reuters yesterday.