WASHINGTON,  (Reuters) – President Donald Trump opened the door to an increase in U.S. troop numbers in Afghanistan last night as part of a new strategy for the region, arguing against a hasty withdrawal from America's longest military conflict.
Trump, in a prime-time televised address, said his new approach was aimed at preventing Afghanistan from becoming a safe haven for Islamist militants bent on attacking the United States. He also laid out a tougher approach to U.S. policy toward Pakistan.
The Republican president overcame his own doubts about the war that began in October 2001 after the Sept. 11 attacks on the United States. He said repeatedly on the campaign trail last year that the war was too costly in lives and money.
"My original instinct was to pull out," he said in his speech, but added that he was convinced by his national security advisers to strengthen the U.S. ability to prevent the Taliban from ousting the U.S.-backed government in Kabul.
Trump did not say how many U.S. troops would be sent, but Defense Secretary James Mattis has plans on the table to send about 4,000 more to add to the 8,400 deployed in Afghanistan currently.
Comments
(Trinidad Guardian) It is now official. Two external audits have confirmed that there was a discrepancy between reported oil production in the Exploration and Production Operations in the Catshill Field operated by A&V Oil and Gas and the actual production receipts at Pointe-a-Pierre discovered by Petrotrin's Internal Audit Department in the period January to June 2017.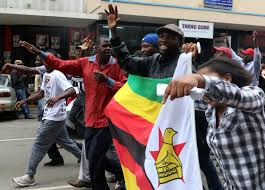 HARARE (Reuters) – The leaders of Zimbabwe's ruling ZANU-PF party will meet today to approve the dismissal of President Robert Mugabe, the only leader the southern African nation has known since independence 37 years ago, two party sources have said.

DUBLIN (Reuters) – Sinn Fein's Gerry Adams, a pivotal figure in the political life of Ireland for almost 50 years, said on Saturday he will step down as party leader and complete a generational shift in the former political wing of the Irish Republican Army (IRA).
WASHINGTON (Reuters) – The top US nuclear commander said on Saturday that he would resist President Donald Trump if he ordered an "illegal" launch of nuclear weapons.
BONN, Germany (Thomson Reuters Fou-ndation) – UN climate negotiations in Bonn, aimed at laying the groundwork for faster action to curb climate change and deal with its impacts, ended in the early hours of Saturday morning with solid progress on key issues, including preparations for ramping up carbon cuts.