COX'S BAZAR, Bangladesh (Reuters) – Nearly 400 people have died in fighting that has rocked Myanmar's northwest for a week, new official data show, making it probably the deadliest bout of violence to engulf the country's Rohingya Muslim minority in decades.
About 38,000 Rohingya have crossed into Bangladesh from Myanmar, U.N. sources said yesterday, a week after Rohingya insurgents attacked police posts and an army base in Rakhine state, prompting clashes and a military counteroffensive.
The army says it is conducting clearance operations against "extremist terrorists" and security forces have been told to protect civilians. But Rohingya fleeing to Bangladesh say a campaign of arson and killings aims to force them out.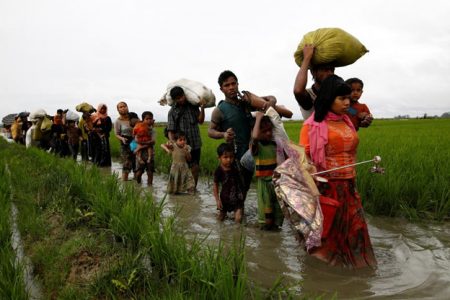 U.N. Secretary-General Antonio Guterres is "deeply concerned" by reports of the use of excessive force during the army's operations in Rakhine state, spokeswoman Eri Kaneko said in a statement yesterday.
"(He) urges restraint and calm to avoid a humanitarian catastrophe," Kaneko said.
"The secretary-general underlines the responsibility of the government of Myanmar to provide security and assistance to all those in need and to enable the United Nations and its partners to extend the humanitarian support they are ready to provide," she said.
The treatment of Myanmar's roughly 1.1 million Rohingya is the biggest challenge facing national leader Aung San Suu Kyi, accused by some Western critics of not speaking out for a minority that has long complained of persecution.
The clashes and ensuing army crackdown have killed about 370 Rohingya insurgents, 13 security forces, two government officials and 14 civilians, the Myanmar military said on Thursday.
By comparison, communal violence in 2012 in Sittwe, the capital of Rakhine, led to the killing of nearly 200 people and the displacement of about 140,000, most of them Rohingya.
The fighting is a dramatic escalation of a conflict that has simmered since October, when similar but much smaller Rohingya attacks on security posts prompted a brutal military response dogged by allegations of rights abuses.
Myanmar evacuated more than 11,700 "ethnic residents" from the area affected by fighting, the army said, referring to the non-Muslim population of northern Rakhine.
More than 150 Rohingya insurgents staged fresh attacks on security forces on Thursday near villages occupied by Hindus, the state-run Global New Light of Myanmar said, adding that about 700 members of such families had been evacuated.
"Four of the terrorists were arrested, including one 13-year-old boy," it said, adding that security forces had arrested two more men near a Maungdaw police outpost on suspicion of involvement in the attacks.
About 20,000 more Rohingya trying to flee are stuck in no man's land at the border, the U.N. sources said, as aid workers in Bangladesh struggle to alleviate the sufferings of a sudden influx of thousands of hungry and traumatised people.
While some Rohingya try to cross by land, others attempt a perilous boat journey across the Naf River separating the two countries.
Bangladesh border guards found the bodies of 15 Rohingya Muslims, 11 children among them, floating in the river on Friday, area commander Lieutenant Colonel Ariful Islam told Reuters.
That takes to about 40 the total of Rohingya known to have died by drowning.
Late yesterday, the Bangladesh foreign ministry said it had lodged a "strong protest" against violation of air space by Myanmar helicopters on three days this week, including yesterday, near the area where the Rohingya are fleeing violence.
"These instances of incursion into Bangladesh air space by Myanmar helicopters run contrary to the good neighbourly relations and could lead to unwarranted situation," said the foreign ministry statement.
Suu Kyi spokesman Zaw Htay said h he was not aware of the complaint but that there were channels in place for dialogue between the two sides. If Myanmar receives the complaint from Bangladesh, it will respond, he said.
Comments

WASHINGTON,  (Reuters) – The special counsel in the Russia probe filed new criminal charges yesterday against President Donald Trump's former campaign aides Paul Manafort and Rick Gates, stepping up pressure in a legal battle that started last year.
(Reuters) – China has the world's largest and farthest-ranging fishing operation, outstripping the next 10 biggest combined, according to what researchers say is the most comprehensive and data-intensive study on the subject.
MUMBAI, (Reuters) – An Indian financial crime-fighting agency said on Thursday it has seized a Rolls-Royce Ghost, a Porsche Panamera and some half a dozen more luxury vehicles belonging to billionaire jeweller Nirav Modi and his firms, in a probe into an alleged $1.8 billion fraud against state-run Punjab National Bank.
BOSTON/NEW YORK,  (Reuters) – The world's largest asset manager put U.S. gunmakers on notice yesterday that it is no longer business as usual in the wake of a shooting that killed 17 at a Florida high school.

WASHINGTON/TALLAHASSEE, Fla., (Reuters) – Students galvanized by the deadly mass shooting at a Florida high school confronted lawmakers yesterday with demands to restrict sales of assault rifles, while President Donald Trump suggested arming teachers as a way to stop more U.S.