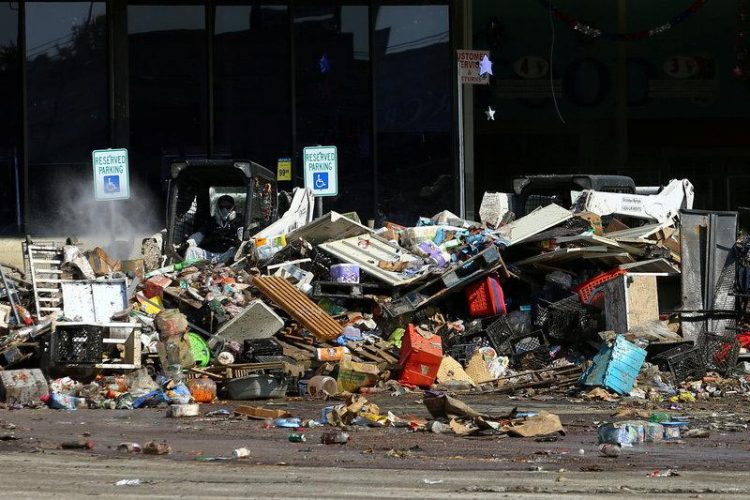 HOUSTON (Reuters) – Angry Houston residents shouted at city officials on Saturday over decisions to intentionally flood certain neighbourhoods during Hurricane Harvey, as they returned to homes that may have been contaminated by overflowing sewers.
A town hall grew heated after City Council member Greg Travis, who represents parts of western Houston, told about 250 people that an Army Corps of Engineers official told him that certain gauges measuring water levels at the Buffalo Bayou – the city's main waterway – failed due to a decision to release water from two municipal reservoirs to avoid an overflow.
Travis' words inflamed tensions at the town hall, held at the Westin Houston hotel, as the region struggled to recover from Hurricane Harvey, which dropped as much as 50 inches (127 cm) of rain in some areas along Texas' Gulf Coast, triggering historic floods.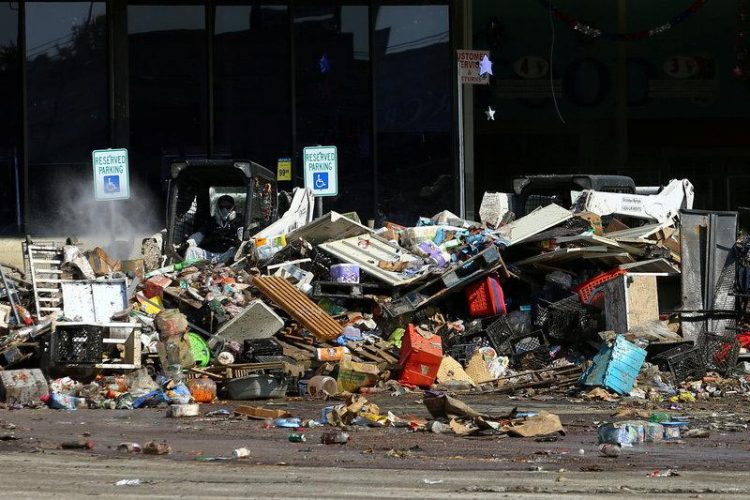 More than 450,000 people either still do not have safe drinking water or need to boil their water first.
On Aug. 28, the Army Corps and the Harris County Flood Control District opened the Addicks and Barker reservoirs in western Houston to keep them from overflowing. They warned it would flood neighbourhoods, some of which remained closed off two weeks later.
Travis said the Army Corps official said they kept releasing water without knowing the extent of the flooding. "They didn't understand that the bathtub effect was occurring," he said.
Residents attempting to return to flooded homes may have to contend with contaminated water and air because the city's sewer systems overflowed during the floods. Fire chief Samuel Pena said people returning home should wear breathing masks and consider getting tetanus shots.
"We couldn't survive the Corps – why should we rebuild?" Debora Kumbalek, who lives in Travis' district in Houston, shouted during the town hall.
Scattered heaps of discarded appliances, wallboard and mattresses can be still seen throughout the city of 2.7 million people, the nation's fourth-largest.
There were no representatives from the Army Corps at the town hall. An official from the Army Corps could not immediately comment. An official from the Harris County Flood Control District did not immediately respond to a request for comment.
The Corps released water at an intended maximum rate of 13,000 cubic feet (370 cubic meters) per second to keep those reservoirs from overflowing. However, preliminary data from the US Geological Survey suggests that on at least two days, the average release rate exceeded that 13,000 level.
Many residents face lengthy rebuilding processes, and the majority do not have flood insurance. The Federal Emergency Management Administration will contribute a maximum of $33,000 per home in assistance to cover damages, a FEMA official said at the town hall, though for heavily flooded homes, damages will likely exceed that amount.
Fire chief Pena said homes may also be occupied by alligators, rodents and snakes due to the floods.
A total of 52 of the state's public drinking water systems were still damaged, inoperable or destroyed, according to the US Environmental Protection Agency and the Texas Commission on Environmental Quality, leaving 70,000 people without water. Another 380,000 people need to boil their water.
Comments

ERBIL, Iraq,  (Reuters) – Iraqi Kurds are expected to vote for independence in a referendum on Monday that neighbouring countries and Western powers fear could break up the country and stir broader regional ethnic and sectarian conflict.
SAN JUAN, Puerto Rico, (Reuters) – Hurricane Maria, the second major hurricane to wreak havoc in the Caribbean this month, skirted by the Turks and Caicos Islands yesterday and was blamed for fresh flooding on Puerto Rico two days after ravaging the U.S.

(Trinidad Express) T&T Coast Guard vessel TTS MORUGA CG 27 arrived in Dominica on Thursday with approximately 2.28 tonnes of food items donated and collected from various stakeholders at locations throughout Trinidad and Tobago.

(Trinidad Express) TECHNICIAN Reeshie Surajbally has been committed to stand trial in the High Court on the charge of kidnapping and sexually touching two girls in Barrackpore last year.
WASHINGTON,  (Reuters) – U.S. Senator John McCain said yesterday he opposes the latest Republican bill to dismantle Obamacare, dealing the measure what could be a fatal blow given the party's slim Senate majority.