Respect for law and order has returned to Dominica, Prime Minister Roosevelt Skerrit said last night in an address to his people and he announced the imminent visit by the UN Secretary General to the hurricane-stricken island and its plan to become a climate resilient country.
"We were all deeply shocked and saddened by the looting that took place after Maria. There is no place for it and we will have no tolerance for it. Thanks to the efforts of the local police force, the Regional Security System and defence forces from around the region, this situation has now been brought under control. Nevertheless, we shall keep the curfew in effect for the time being", Skerrit said.
He also announced that the country's two airstrips were functioning and thanked LIAT  and Caribbean Airlines for their "unflinching commitment".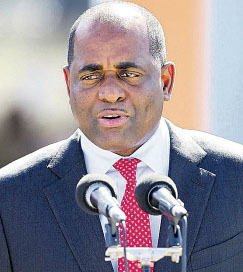 "As soon as it was possible and practical, LIAT was bringing relief supplies and transporting ill and vulnerable citizens out of the country…and, I must stress, for free", he said in the address.
He noted that power was returning to Dominica and the Princess Margaret Hospital was "motoring back!"
While some private schools will reopen on a limited scale next week, the PM said that for the vast majority of students and teachers, "there is no place to call theirs, as most of our schools, if not several damaged or destroyed, are being utilized as shelters for persons who lost their homes or whose homes are not sufficiently mended to permit their return".
He said he has been in discussion with the Caribbean Confederation of Credit Unions – to which 75, 000 individuals and entities in Dominica are accredited.
"They are lending a helping hand and together with some other private individuals, we shall be seeking to provide a desk and a chair, as well as adequate temporary shelter for many of our students, particularly fourth and fifth formers as well as all primary school students on island. Current shipping challenges notwithstanding, I am hoping to have temporary schooling facilities in place to augment those that can use their existing plant, by the 15th of October", he said.
Skerrit thanked the Caribbean, France and Venezuela for the assistance provided in the rescue phase.
As regards recovery, the PM said that the Ross University School of Medicine and Business Process outsourcing firm, Clear Harbor have signaled their commitment to Dominica and the restart of their operations.
Confident
Skeritt said that UN Secretary General Antonio Guterres will visit over the next few days.
"The World Bank and European development agency have pledged considerable sums to back our vision as the first Climate Resilient nation of the climate change era.
"These pledges are considerable. We are confident, they will be honoured. This, Ladies and Gentlemen, is a moment to grasp. In coming weeks, my team and I will be giving our all to try and cement the ideas that have attracted these pledges, and to turn these pledges into cash, construction and resilience", he said.
To this end, he said it will be necessary for him to travel extensively in the coming days and weeks.
Earlier in the day, a  riled up  Skerrit angrily warned persons not to use social media and the airwaves to undermine the restoration of the island by claiming that there is political interference in the delivery of supplies to suffering citizens.
Speaking at one of his daily press conferences, streamed live on his Facebook page, the Prime Minister said that he is "pissed off" about the actions of some persons that would only hurt  vulnerable people and hamper the rebuilding of the island.
He dismissed talk about politicians being involved in the delivery of food supplies, a process he said is coordinated by regional and international agencies which have the means to do so.
"As the Prime Minister of this country I sleep on the floor, as the Prime Minister of this country I bathe this morning from a bucket of water," the Prime Minister declared.
Unaccounted
Hurricane Maria on September 19 wrought havoc on the lush-green island of 72,000 citizens, damaging about 95% its buildings, killing 20 persons with some 18 still unaccounted for.
An animated Skerrit declared that he does not eat corned beef or sardines and has no reasons to store them at his house.
He said people are undermining the government's effort to bring aid and restoration and they need to stop it. If persons have complaints, he said, these will be addressed administratively and better structures and systems put in place to facilitate a more efficient delivery of supplies.
"We need to stop it!" he said.
The Prime Minister said persons cannot go on social media and the radio and elsewhere "and making this unfounded, baseless malicious allegations, don't think that it is going to hurt, it is not going to hurt me."
"And this thing must stop, because it is really pissing me off that people out there talking a bunch of nonsense…" he said.
"This damn country has been destroyed, it has been devastated, schools are destroyed and people are out there talking a bunch nonsense about food supplies and political interference," the angry PM said.
He said his mandate is to ensure that this country has supplies to get to every home, and every individual.
Further, he said he has not even visited the ports and that the only minister who has is the minister who has ports as part of her mandate. However, he announced that he would have visited to ascertain what administrative arrangements are in place and where there is need for it to be strengthened.
He cautioned that if there are issues to be addressed administratively let it be addressed administratively but people have to stop "this talk about food supplies and we are posting these things on social media, we sending these things to regional and international agencies all to undermine these things."
He said it is the regional and international agencies who have been responsible for delivering the supplies and the process has not been commandeered by the government "They [the agencies) came here with their boats, they have their helicopters, they have their means to deploy and delivery those supplies."
"We really have to stop this foolishness because the only people who would be affected by this are the people of Dominica and the most vulnerable in our country. The people's whose homes are not insured, the people who don't know where they are sleeping tonight, the people who do not know whether when Monday come they would have a job, who do not know how they are going to pay their mortgages.
"I have no time for politics you know, no time for politics.,.. my interest and commitment is to what I can do to bring hope to this country and to ensure that we can re-build in the soonest possible time."
Too many vehicles
Meanwhile, the Prime Minister updating on the restoration process said that there are just too many vehicles in the city and on the major roads and this is hampering the efforts of the authorities to clear the roads, to restore electricity to some communities and expand and extend the coverage of telecommunication services.
"Digicel reported to me today that they just can't work, because there are too many vehicles in the city, their heavy equipment cannot get through the city, they cannot get their supplies …to the points needed…, the Prime Minister said adding that the heavy equipment operators clearing the road have to stop every ten minutes to "allow one car to pass, ten car to pass."
"If you do not have to do where you be driving to, please just stay in your communities and allow the authorities to move with the cleanup, to move with the restoration of telecommunication services, water and power," he said.
He added that they have done a fantastic job in clearing the streets, all the streets are roads are passable, the debris would be removed.
"We have done an extraordinary job to clear the road and to allow the entire city to be accessible by road," he said but noted that the heavy duty operators have to stop, because people are blowing their horn and none of those vehicles are providing essential services.
Around the Web