SANTA ROSA, Calif. (Reuters) – Fast-moving fires spread by shifting winds forced thousands more Californians to evacuate their homes on Saturday as the death toll from the deadliest blaze recorded in the state's history rose to at least 38, with hundreds of people still missing.
About 10,000 firefighters supported by air tankers and helicopters overhead were battling 16 major wildfires, some encompassing several smaller merged blazes, in areas north of San Francisco that have consumed nearly 214,000 acres (86,000 hectares) over seven days, or roughly 334 square miles (865 sq km) – an area larger than New York City.
The 38 confirmed fatalities, including 20 in Sonoma County, already make it the deadliest fire event in California history.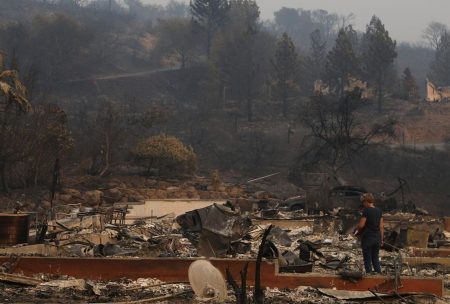 Some 100,000 people have been forced from their homes, including 3,000 evacuated on Saturday from the city of Santa Rosa, about 50 miles (80 km) north of San Francisco, and another 250 from nearby Sonoma city.
"This is truly one of the greatest tragedies that California has ever faced. The devastation is just unbelievable. It is a horror that no one could have imagined," California Governor Jerry Brown told a news conference in Santa Rosa.
The fires have damaged or destroyed about 5,700 structures, reducing homes and businesses to ash. The fires' death toll surpassed the 29 deaths from the Griffith Park fire of 1933 in Los Angeles.
"It's an unwieldy beast right now," fire information officer Dennis Rein said at the Sonoma County Fairgrounds in Santa Rosa, the main staging area for the so-called Nuns Fire in Sonoma County, a world-renowned wine-producing region.
At least a dozen Napa Valley and Sonoma County wineries were damaged or destroyed, throwing the state's wine industry and related tourism into disarray.
For the picturesque Napa Valley town of Calistoga, the winds were a double-edged sword.
The town was spared by hazardous winds when they shifted, Mayor Chris Canning said, though he warned a resurgence could pose a new threat.
The town of roughly 5,000 people had been evacuated, he said.
Firefighters from states including Oregon, Washington, Arizona, Colorado and Nevada have joined crews from California to battle the blazes.
From the air, some 70 helicopters and large aircraft including a 747, two DC-10s and about a dozen air tankers doused flames across the sprawling affected area with fire retardant, officials said.
On the ground, prison inmates were helping firefighters – sometimes digging lines to help contain fires, other times preparing meals at command centres, always watched over by guard.
In an area largely dependent on immigrant farm labour, US Immigration and Customs Enforcement officials said they would temporarily suspend routine operations during the emergency, "except in the event of a serious criminal presenting a public safety threat," spokesman James Schwab said in a statement.
Around the Web