MADRID (Reuters) – Spain's political showdown with Catalonia is set to reach a new level on Thursday when political leaders in Madrid and Barcelona are expected to make good on pledges made to their supporters to stick to their tough positions over the region's future.
In an unprecedented move since Spain returned to democracy in the late 1970s, Prime Minister Mariano Rajoy will impose direct rule in Catalonia unless the region's leader Carles Puigdemont retracts by 10 am (0800 GMT) an ambiguous declaration of independence he made last week.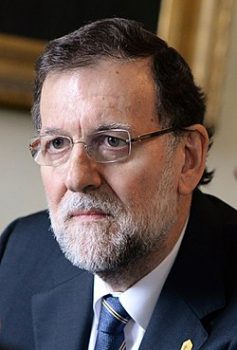 Puigdemont told members of his Catalan Democratic Party on Wednesday night that not only he would not back down but that he would press ahead with a more formal declaration of independence if Rajoy suspends Catalonia's political autonomy.
It is not yet clear how and when this declaration would take place and whether it would be endorsed by the regional assembly, though many pro-independence lawmakers have openly said they wanted to hold a vote in the Catalan parliament to make it more solemn.
If Rajoy invokes Article 155 of the 1978 constitution, which allows him to take control of a region if it breaks the law, it would not be fully effective until at least early next week as it needs previous parliamentary approval, offering some last minute leeway for secessionists to split unilaterally.
This prospect has raised fears of social unrest, led the euro zone's fourth-largest economy to cut its growth forecasts and rattled the euro.
Puigdemont has already defied Rajoy once this week, when he ignored a first deadline to drop the independence campaign and instead called for talks.
Both sides have traded blame for the stand-off for more than a month.
Rajoy says the Catalan government has repeatedly broken the law, including when it held a banned vote on independence on Oct. 1 and made a symbolic declaration of independence on Oct. 10, only to suspend it seconds later.
Puigdemont says a violent police crackdown on the referendum and arrests of pro-independence leaders on charges of sedition show the Spanish state has become authoritarian.
Some further uncertainty could come from the terms of Article 155, which are vague.
Madrid can in theory sack the local administration and install a new team, take control of police and finances, and call a snap election.
But some members of the Catalan government have already questioned this interpretation of the constitution, suggesting the stand-off could extend for at least several more days.
Comments

WASHINGTON,  (Reuters) – Congress voted yesterday to end a three-day U.S. government shutdown, approving another short-term funding bill as Democrats accepted promises from Republicans for a broad debate later on the future of young illegal immigrants.
HASSA, Turkey, (Reuters) – Turkey shelled targets in northwest Syria yesterday and said it would swiftly crush U.S.-backed Kurdish YPG fighters in an air and ground offensive on the Afrin region beyond its border.
COLOMBO, (Reuters) – Exiled former Maldives President Mohamed Nasheed, who is fighting for the right to contest a presidential poll this year, said yesterday that land grabbing by China was threatening peace and stability in the Indian Ocean.
BRUSSELS/CARACAS, (Reuters) – The European Union on Monday announced new sanctions on seven senior Venezuelan officials, saying this was an expression of the bloc's concern with the political crisis under President Nicolas Maduro.
BEIJING, (Reuters) – China's violence-prone far western region of Xinjiang will build a "Great Wall" around its borders to prevent the infiltration of militants from outside the country, state media reported yesterday citing the regional governor.