BEIRUT (Reuters) – Iran's military chief warned Israel against breaching Syrian airspace and territory on a visit to Damascus on Wednesday, raising tensions with Israel as it voices deep concern over Tehran's influence in Syria.
General Mohammad Baqeri pledged to increase cooperation with Syria's military to fight Israel and insurgents, Iranian and Syrian state media said.
Iranian forces and Iran-backed Shi'ite militias, including Hezbollah, have provided critical military support to Damascus, helping it regain swathes of Syria from rebels and militants.
"It's not acceptable for the Zionist regime to violate the land and airspace of Syria anytime it wants," Baqeri said at a news conference with his Syrian counterpart. "We are in Damascus to assert and cooperate to confront our common enemies, the Zionists and terrorists," he said, a reference to Israel and Sunni Muslim jihadists including Islamic State.
"We drew up the broad lines for this cooperation," Syrian state media cited the Iranian military chief of staff as saying.
Iran's expanding clout during Syria's more than six-year war has raised alarm in Israel, which has said it would act against any threat from its regional arch-enemy Tehran.
Israel's air force says it has struck arms convoys of the Syrian military and Hezbollah nearly 100 times during the war.
Israeli Prime Minister Benjamin Netanyahu has said that Iran was strengthening its foothold in Syria and that Israel would "do whatever it takes" to protect its security.
Tensions have risen this year between Lebanon's Hezbollah and Israel, which have avoided a major conflict since 2006.
This week, the Israeli military said it attacked a Syrian anti-aircraft battery that had fired at its planes over Lebanon. But the Syrian army said it hit an Israeli warplane after it breached its airspace at the Syria-Lebanon border.
"Our job is to prevent war, and you do that through deterrence. What we saw in Syria (on Monday) fell within this framework," the Israeli defence minister told Israel Radio on Wednesday before the Iranian military chief's comments.
"We will do whatever is necessary for (our) security," Avigdor Lieberman added. "We will not change our operating procedures because of shooting or a threat of this type or another."
Comments
(Trinidad Guardian) It is now official. Two external audits have confirmed that there was a discrepancy between reported oil production in the Exploration and Production Operations in the Catshill Field operated by A&V Oil and Gas and the actual production receipts at Pointe-a-Pierre discovered by Petrotrin's Internal Audit Department in the period January to June 2017.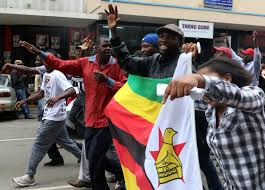 HARARE (Reuters) – The leaders of Zimbabwe's ruling ZANU-PF party will meet today to approve the dismissal of President Robert Mugabe, the only leader the southern African nation has known since independence 37 years ago, two party sources have said.

DUBLIN (Reuters) – Sinn Fein's Gerry Adams, a pivotal figure in the political life of Ireland for almost 50 years, said on Saturday he will step down as party leader and complete a generational shift in the former political wing of the Irish Republican Army (IRA).
WASHINGTON (Reuters) – The top US nuclear commander said on Saturday that he would resist President Donald Trump if he ordered an "illegal" launch of nuclear weapons.
BONN, Germany (Thomson Reuters Fou-ndation) – UN climate negotiations in Bonn, aimed at laying the groundwork for faster action to curb climate change and deal with its impacts, ended in the early hours of Saturday morning with solid progress on key issues, including preparations for ramping up carbon cuts.