HARARE (Reuters) – The leaders of Zimbabwe's ruling ZANU-PF party will meet today to approve the dismissal of President Robert Mugabe, the only leader the southern African nation has known since independence 37 years ago, two party sources have said.
An extraordinary meeting of the party's central committee is expected to convene around 10:30 a.m. (0830 GMT) to consider removing the 93-year-old, four days after a military seizure of power ostensibly aimed at "criminals" within his entourage.
Separately, state television said Mugabe would meet military commanders today, quoting the Catholic priest who has been mediating in negotiations with the president.
Yesterday, hundreds of thousands of people flooded the streets of Harare, singing, dancing and hugging soldiers in an outpouring of elation at Mugabe's overthrow.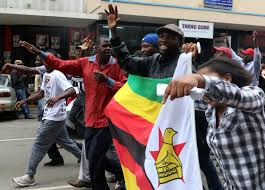 ZANU-PF's central committee is also expected to reinstate Emmerson Mnangagwa as party vice-president, resurrecting the political career of the former security chief, nicknamed The Crocodile, whose sacking this month triggered the military's intervention.
Mugabe's wife, Grace, will be fired as head of the ZANU-PF Women's League, the sources told Reuters, completing the demise of a 52-year-old former government typist who just a week ago stood in pole position to succeed her husband after Mnangagwa's dismissal.
The pair's stunning downfall is likely to send shockwaves across Africa, where a number of entrenched strongmen, from Uganda's Yoweri Museveni to Democratic Republic of Congo's Joseph Kabila, are facing mounting pressure to step aside.
Support evaporating
In scenes reminiscent of the downfall of Romanian dictator Nicolae Ceausescu in 1989, men, women and children ran alongside the armoured cars and troops who stepped in this week to oust the man who has ruled since independence from Britain in 1980.
Under house arrest in his lavish 'Blue Roof' compound, Mugabe has refused to stand down even as he has watched his support from party, security services and people evaporate in less than three days.
His nephew, Patrick Zhuwao, told Reuters the elderly leader and his wife were "ready to die for what is correct" rather than step down in order to legitimise what he described as a coup.
But on Harare's streets, few seemed to care about the legal niceties as they heralded a "second liberation" for the former British colony and spoke of their dreams for political and economic change after two decades of deepening repression and hardship.
"These are tears of joy," said Frank Mutsindikwa, 34, holding aloft the Zimbabwean flag. "I've been waiting all my life for this day. Free at last. We are free at last."
The crowds in Harare have so far given a quasi-democratic veneer to the army's intervention, backing its assertion that it is merely effecting a constitutional transfer of power, which would help it avoid the diplomatic backlash and opprobrium that normally follow a coup.
The United States, a long-time Mugabe critic, said it was looking forward to a "new era" in Zimbabwe, while President Ian Khama of neighbouring Botswana said Mugabe had no diplomatic support in the region and should resign at once.
Comments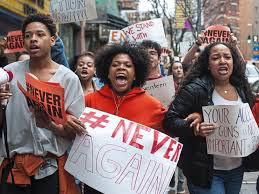 (Reuters) – In the week since 17 of David Hogg's classmates and teachers were gunned down in Florida, he and his fellow high schoolers have launched a movement that reshaped the gun control debate almost overnight and may influence the US midterm elections.
BEIRUT/UNITED NATIONS (Reuters) – The UN Security Council on Saturday demanded a 30-day truce across Syria as rescuers in the country's eastern Ghouta region said bombing had not let up long enough for them to count bodies during one of the bloodiest air assaults of the seven-year war.
WASHINGTON (Reuters) – The Democratic minority on the US House of Representatives Intelligence Committee on Saturday released a response to Republican charges that the FBI and Justice Department have abused the law in their investigation of possible ties between Russia and Donald Trump's 2016 presidential campaign.
BEIJING (Reuters) – China reacted with anger on Saturday to new US sanctions aimed at increasing pressure on nuclear-equipped North Korea, saying the unilateral targeting of Chinese firms and people risked harming cooperation on the problem.
NEW YORK (Reuters) – Delta Air Lines and United Airlines on Saturday became the latest major corporations to sever marketing ties with the National Rifle Association as the fallout from last week's massacre at a Florida high school took its toll on the gun advocacy group.