(Trinidad Guardian) Preliminary investigations into Wednesday's $5.5 million heist at the Piarco International Airport have revealed employees there may have had support from co-conspirators with military training, police said yesterday. Up to last evening, seven people initially detained for questioning in relation to the robbery remained in custody.
Police sources said two of the detainees, who are security personnel, are believed to hold the key to them making a major breakthrough in the case, which is now deemed "high-profile."
The source added that they got information that people currently enrolled in the T&T Defence Force teamed up with ex-army personnel and criminal elements from the Maracas/St Joseph area to carry out the heist, which they said was planned over the past four to six months.
Investigators received information that "strange" people were seen loitering in and around the cargo loading area where the robbery took place for several weeks before Wednesday's heist.
"Information was given that no security personnel from the Airports Authority frequenting that particular area, at any given day or at any given time, carried any licensed firearm…so any one loitering observing the operations and the security precincts would observe this closely," the police source said.
"It is said that strange people not coming there to clear cargo were seen hanging around within the past four months, some were notified to the police, also when strange vehicles were seen reports were also made…there is the theory that these people may have been scoping out the scene and operations – all in the planning of this well-executed robbery," the source added.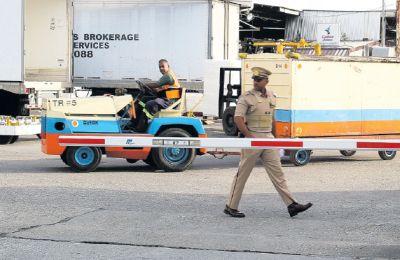 The next step for investigators is to request surveillance footage from businesses and homes in the area, within a certain distance at all access points to the airport's perimeter, in the hope of finding other clues to solve the case.
On Wednesday at about 11.25 am, the thieves struck at the cargo loading area along the Golden Grove Road, Piarco, as the money was being transferred from an Amalgamated Security vehicle to be loaded onto a Caribbean Airlines plane.
An airport security reportedly stopped the Amalgamated officers from completing the loading process onto a cargo bin due to a security concern. This period allowed four masked men armed with high-powered rifles and dressed in army fatigue to exit a heavily tinted Toyota Hilux pick-up, licensed TDN7020. The men ordered those around to lie face down on the ground. The gunmen then loaded the cash onto the pick-up and escaped with the loot. The getaway vehicle was found parked at Building 1A, Oropune Gardens, Piarco, about an hour after the incident.
Around the Web