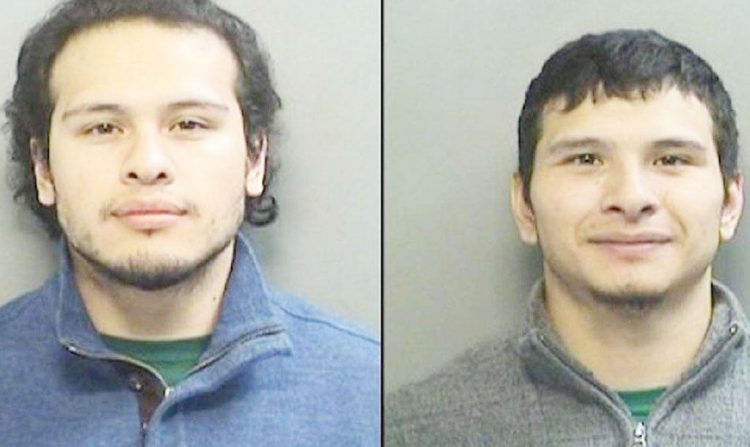 NEW YORK,  (Reuters) – Two nephews of Venezuela's first lady were sentenced to 18 years in prison yesterday following their convictions in New York on U.S. drug trafficking charges.
U.S. District Judge Paul Crotty sentenced the two men, Franqui Francisco Flores de Freitas, 32, and Efrain Antonio Campo Flores, 31, at a hearing in federal court in Manhattan. The two are cousins, both nephews of Cilia Flores, Venezuelan President Nicolas Maduro's wife.
Lawyers for both defendants had asked for a shorter sentence of 10 years, while prosecutors had sought 30. Crotty said 30 years would be excessive, noting that Flores de Freitas and Campo Flores had no previous criminal history.
"What moves me is that Mr. Campo Flores and Mr. Flores de Freitas were perhaps not the most astute drug dealers who ever existed," he said. "They were in over their heads."
Both cousins spoke briefly before being sentenced.
"I know that I have made very serious mistakes in this case," Campo Flores said, going on to apologize to his wife and children.
"I've always been a good person," Flores de Freitas said. "Even in jail I tried to help those who were in a worse psychological situation than I find myself in." He asked that the judge allow him to return to Venezuela soon to be near his son.
Lawyers for the two men had no immediate comments after the sentencing.
Flores de Freitas and Campo Flores were arrested in Haiti in November 2015 in a U.S. Drug Enforcement Administration sting operation. Prosecutors said in a court filing they tried to make $20 million through drug trafficking to help keep their family in power.
Campo Flores and Flores de Freitas were convicted in November 2016 by a jury of conspiring to import cocaine into the United States.
Lawyers for the two men said in a court filing earlier this year that prosecutors had proven only "bungling discussions of a drug plot that could never actually have been executed."
Days after the conviction, Maduro blasted the case in a speech as an instance of "U.S. imperialism." Maduro has frequently cast U.S. accusations of drug trafficking as a pretext for meddling in Venezuela and trying to topple him.
Under Maduro, oil-producing Venezuela has fallen into an economic and political crisis in which more than 120 people have died in four months of protests. The United States announced new sanctions against Maduro's government in July.
Comments

PERRIS, Calif., (Reuters) – Police said yesterday they were still seeking answers after finding 13 siblings starving in their parents' squalid Southern California home, some of them chained to beds under "horrific" conditions in an otherwise ordinary suburb.

WASHINGTON,  (Reuters) – President Donald Trump's former chief strategist Steve Bannon declined on Tuesday to comply with a subpoena ordering him to answer questions from a House intelligence panel about his time at the White House as part of its investigation into allegations of Russian interference in the U.S.
SAN SALVADOR, (Reuters) – El Salvador is discussing a deal with Qatar under which Salvadoran migrants facing the loss of their right to stay in the United States could live and work temporarily in the Middle Eastern country, the government of the Central American nation said on Tuesday.
VANCOUVER, (Reuters) – A 20-nation meeting on North Korea agreed yesterday to consider imposing unilateral sanctions on Pyongyang that go beyond those required by U.N.

LONDON,  (Reuters) – Carillion collapsed yesterday when its banks pulled the plug, triggering Britain's biggest corporate failure in a decade and forcing the government to step in to guarantee public services from school meals to roadworks.