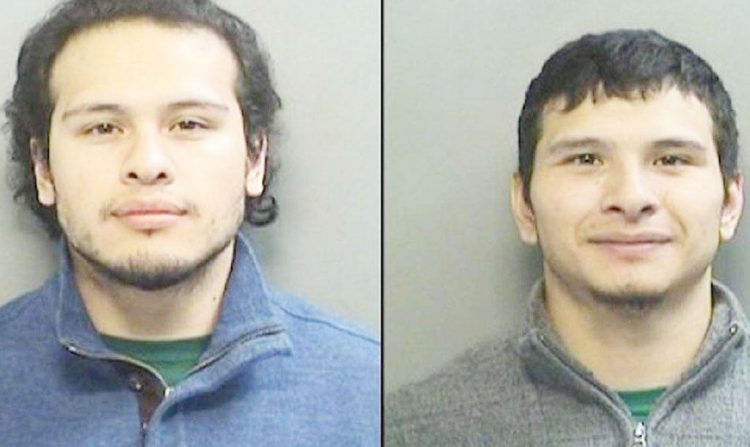 NEW YORK,  (Reuters) – Two nephews of Venezuela's first lady were sentenced to 18 years in prison yesterday following their convictions in New York on U.S. drug trafficking charges.
U.S. District Judge Paul Crotty sentenced the two men, Franqui Francisco Flores de Freitas, 32, and Efrain Antonio Campo Flores, 31, at a hearing in federal court in Manhattan. The two are cousins, both nephews of Cilia Flores, Venezuelan President Nicolas Maduro's wife.
Lawyers for both defendants had asked for a shorter sentence of 10 years, while prosecutors had sought 30. Crotty said 30 years would be excessive, noting that Flores de Freitas and Campo Flores had no previous criminal history.
"What moves me is that Mr. Campo Flores and Mr. Flores de Freitas were perhaps not the most astute drug dealers who ever existed," he said. "They were in over their heads."
Both cousins spoke briefly before being sentenced.
"I know that I have made very serious mistakes in this case," Campo Flores said, going on to apologize to his wife and children.
"I've always been a good person," Flores de Freitas said. "Even in jail I tried to help those who were in a worse psychological situation than I find myself in." He asked that the judge allow him to return to Venezuela soon to be near his son.
Lawyers for the two men had no immediate comments after the sentencing.
Flores de Freitas and Campo Flores were arrested in Haiti in November 2015 in a U.S. Drug Enforcement Administration sting operation. Prosecutors said in a court filing they tried to make $20 million through drug trafficking to help keep their family in power.
Campo Flores and Flores de Freitas were convicted in November 2016 by a jury of conspiring to import cocaine into the United States.
Lawyers for the two men said in a court filing earlier this year that prosecutors had proven only "bungling discussions of a drug plot that could never actually have been executed."
Days after the conviction, Maduro blasted the case in a speech as an instance of "U.S. imperialism." Maduro has frequently cast U.S. accusations of drug trafficking as a pretext for meddling in Venezuela and trying to topple him.
Under Maduro, oil-producing Venezuela has fallen into an economic and political crisis in which more than 120 people have died in four months of protests. The United States announced new sanctions against Maduro's government in July.
Comments

SAN FRANCISCO,  (Reuters) – A Chevron attorney said in court yesterday that the company supports scientific conclusions that humans are causing climate change, a response to a lawsuit that accuses five major energy producers of misleading the public for years about their role in global warming.
SAN FRANCISCO,  (Reuters) – Facebook Inc Chief Executive Mark Zuckerberg said yesterday that his company made mistakes in how it handled data belonging to 50 million of its users and promised tougher steps to restrict developers' access to such information.
SAO PAULO/BRASILIA,  (Reuters) – A power outage struck large swaths of Brazil yesterday, affecting tens of millions of people, especially in the country's northern and northeastern regions where the system remains "practically collapsed," according to an official.

PFLUGERVILLE, Texas,  (Reuters) – The Texas man who carried out a three-week bombing spree made a 25-minute video "confession" on his phone, which was recovered after he blew himself up yesterday as police were closing in to make an arrest, police said.
CARACAS,  (Reuters) – The Miss Venezuela beauty pageant said  yesterday it will investigate possible unethical conduct by its contestants following a vitriolic social media spat that saw former participants accusing each other of inappropriate behavior.