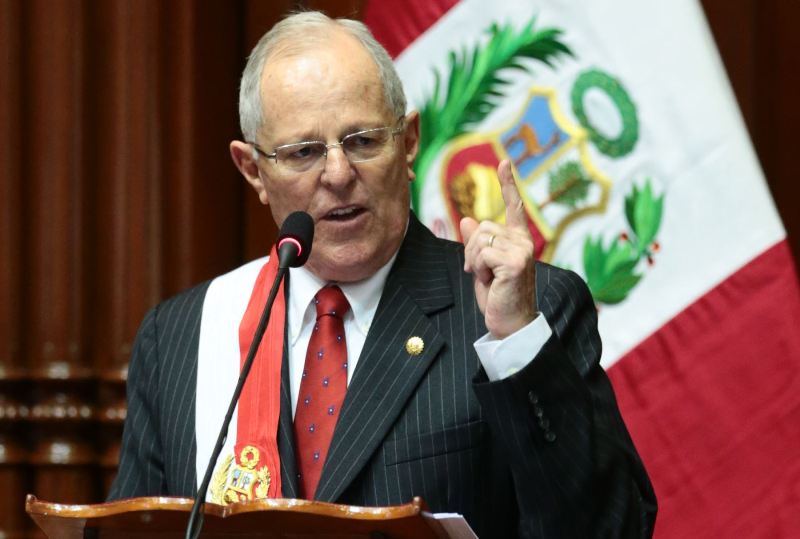 LIMA,  (Reuters) – Lawmakers in Peru's opposition-ruled Congress filed a motion yesterday to impeach center-right President Pedro Pablo Kuczynski on grounds he was morally unfit to lead after he resisted calls to resign over alleged corruption.
Kuczynski vowed to fight for his political life in a defiant speech just before midnight on Thursday and denied anything improper about payments that a company he owns received a decade ago from scandal-plagued Brazilian builder Odebrecht.
But a government source said Kuczynski, a 79-year-old former Wall Street banker, and his Cabinet were aware that his chances of holding onto power were slim.
By refusing to resign, Kuczynski hopes he can clear his name of the graft allegations and defend due process, said a source who asked not to be named. Interior Minister Carlos Basombrio told Kuczynski he is planning to resign, the source and a second government source said.
"The less harmful option for Peru would be his resignation. He's forcing us to impeach him," said opposition lawmaker Lourdes Alcorta.
Odebrecht has rocked Latin American politics with its public confession in a leniency deal a year ago that it orchestrated sophisticated kickback schemes across a dozen countries for more than a decade – landing elites in jail from Colombia to the Dominican Republic and nearly toppling a president in Brazil.
Now banned from new bids in Peru, the company once won lucrative contracts and built ambitious projects across the South American country, from a highway that stretched from the Pacific Ocean to the Amazon to a 12-mile-long irrigation tunnel it drilled through the Andes.
Two former presidents in Peru, Ollanta Humala and Alejandro Toledo, have been ensnared in the Odebrecht probe over allegations they deny. Humala was jailed pending trial in July and authorities are now seeking Toledo's extradition from the United States.
Opposition leader Keiko Fujimori, whom Kuczynski unexpectedly defeated in last year's presidential election, is also under investigation and denies wrongdoing.
Kuczynski, who would be the first sitting president toppled in the Odebrecht scandal, was once lauded by many as a brilliant technocrat who would clean up widespread corruption in Peru. But his 16-months in office have been marked by clashes with the opposition and slowing economic growth.
Peru's central bank chief Julio Velarde said he did not think the crisis would have major impacts on Peru's growth or investments, and suggested he felt let down by Kuczynski.
"I used to have a very good image of him, but I'll leave it at that," Velarde told journalists when asked on Friday if Kuczynski had disappointed him.
Opposition lawmakers control enough seats to remove Kuczynski from office with 87 out of 130 votes required in the single-chamber Congress. Luis Galarreta, the president of Congress, said that could happen as soon as Thursday of next week.
As recently as last month, Kuczynski, a former prime minister and finance minister in Toledo's government, denied taking money from Odebrecht or having any professional links to the company.
But this week Odebrecht sent Congress a requested report in which it detailed deposits totaling about $800,000 to Westfield Capital Ltd, Kuczynski's company, and about $4 million to First Capital Inversiones y Asesorias, a firm controlled by a close friend of Kuczynski.
Kuczynski said on Thursday that he did not manage Westfield when it received the deposits because he was in public office. He acknowledged providing financial services for an Odebrecht project as a consultant for First Capital.
If Kuczynski is ousted, the constitution requires him to be replaced by First Vice President Martin Vizcarra, a former governor of a copper-rich mining region and Peru's current ambassador to Canada.
The first government source said Vizcarra would likely make Cabinet changes to assuage the main opposition party, Popular Force, made up of the rightwing followers of jailed former authoritarian President Alberto Fujimori and his family.
Kuczynski has sought to portray himself as a victim of what many in Peru view as Popular Force's bid to sabotage institutions in the country's relatively recent return to democracy. In recent weeks, Popular Force has proposed legislation to oust the attorney general and justices in the country's top court.
"That strategy includes toppling the president of the Republic," said ruling party lawmaker Gino Costa. "We demand his right to defend himself is respected."
Around the Web