`Give my regards to Jagdeo', PM tells Berbice protestors
People's Progressive Party/Civic regional officials along with supporters yesterday protested against Prime Minister, Moses Nagamootoo during his visit to the Auchlyne Primary School on the Corentyne, in light of over 400 Rose Hall Estate workers receiving letters of termination on Wednesday.  Nagamootoo while leaving the school waved a small Guyana flag at the protestors and told them `Give Jagdeo my regards' referring to Opposition Leader Bharrat Jagdeo.At the time of the protest, Nagamootoo was visiting the Auchlyne Primary School, which he attended, to celebrate his 70th birthday.Zamal Hussain, PPP/C Regional Supervisor, said that they will continue to protest against the Prime Minister, the President and ministers' visits to the region for  "... the betterment of the working people".Hussain said, the protest was held to remind Nagamootoo of his promise to fight for the sugar workers. "Two years ago at Whim, he (Nagamootoo) said sugar was too big to fail and he had the solution to ensure that the industry becomes profitable again". He added, that Nagamootoo should focus more on working towards the betterment of the sugar workers instead of "coming for ceremonies for himself".The Prime Minister during his speech to the gathering at the school spoke of the importance of education. He also displayed several books he has written. He also donated one water dispenser, one photocopying machine, exercise books, crayons and teaching aids among other items to the school.Nagamootoo also announced the donation of five laptop computers from Minister of Public Telecommunications, Cathy Hughes. He said that Minister Hughes has promised to work towards making Auchlyne Primary the first primary with a WiFi connection.During his speech, the Prime Minister took a jab at  Jagdeo's placard in parliament last month, telling the students to never spell the word divide as "devide".
Comments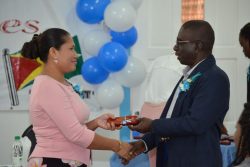 More than twenty persons working in various administrative capacities at the Georgetown Public Hospital Corporation were yesterday recognised for their contributions to the daily operations of the medical facility.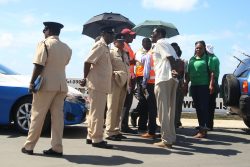 Top brass from the Guyana Police Force, members of the minibus association and representatives of the Ministry of Public Infrastructure yesterday met at the Kitty roundabout to discuss traffic issues.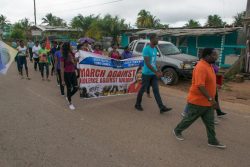 Starting at the Bayroc Community Centre ground and ending at the Linden/Georgetown Bus Park, Lindeners took part in the 'Speak Out, Speak Up' march in the mining town on Saturday.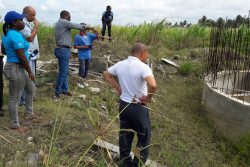 A ministerial team visited the Indian Arrival Monument site in Palmyra Village, Corentyne on Sunday and disclosed that the governments of Guyana and India have signed a co-operation agreement for its completion.