"Impossible is just a big word thrown around by small men who find it easier to live in the world they've been given than to explore the power they have to change it. Impossible is not a fact .It's an opinion. Impossible is not a declaration. It's a dare. Impossible is potential.
Impossible is temporary. Impossible is nothing." – Muhammed Ali
Amy Grant has been living the words of her idol – the great Muhammed Ali – by making the impossible possible. Grant, who turned 15 years-of-age, two weeks ago started 2016 the same way she finished 2015 at the Trinidad and Tobago Swimming Championships -ASATT.
Grant left Guyana in December 2015, but a few hours later in Trinidad she had to visit the emergency department At West Shore Medical Private Hospital due to red and swollen eyes. Antibiotics were prescribed to ease the problem and it enabled her to enter the water.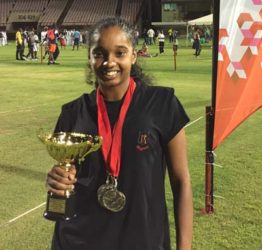 Grant's first competition for 2016 was supposed to be the Guyana Amateur Squash Association's Republic Meet in February but she was unable to compete because of illness and so had to wait for the Independence Meet in May which was the National Long Course Meet which marked the end of the Long Course season. Grant's excitement at competing in the meet was short lived as she had to be scratched from a few events due to a viral infection.
Young Grant entered the 2016 Olympic Day Sprint Triathlon in July and successfully defended her championship title in the female category. Grant's participation was as a result of her fighting ability and also a desire to repeat as champion.
She defied the odds to realise her dream.
Grant was yet to face another illness in September just after qualifying for the Schools National Swimming Championship. She was told that she could run but was not to stress herself and there was to be no swimming until approval was given by her doctor.
Grant, though not a club runner, ran the 800m at her Inter School Championship then went on to win at the Zone meet and also at the Champion of Champions meet where she cemented a spot at the National Stadium for the 2016 National Schools Athletic Championships.
She was to place fifth in the final.
Grant's bad times followed her and antibiotics were used weeks leading up to the 2016 National Schools Swimming Championships. Grant entered the championships with a very weakened body but a strong mind and was duly victorious, swimming away with the Girls Under 16 National Schools Swimming Champion title which she had lost in 2015.
Despite all the difficulties and limitations Grant has faced all year, her coach believed she had the ability to take on ASATT 2016 in Trinidad. Grant's focus was building endurance for the competition since she could not taper due to all the adversities faced over the past 18 months. Grant won gold in the 13-14 Girls 1500m freestyle placed fifth in the 800m freestyle.
She also set National records in both events and while she failed to medal in the other events she entered, she did record personal best times.
Grant swam unattached in Trinidad after representing Silver Sharks Swim Club for the past five years. She is a firm believer of that old adage where there is a will there is a way.
Amy Grant's New Year's resolution is a simple one. She would like to stay fit and healthy for 2017.
Around the Web