(The Sports Xchange) – The anticipated matchup between Russell Westbrook and Jimmy Butler fizzled, but Westbrook sizzled to lead the Oklahoma City Thunder to a 109-94 win against the Chicago Bulls on Monday at the United Center.
Led by Westbrook's 21 points, nine rebounds and 14 assists, the Thunder (23-16) cruised to the victory while capitalizing on Butler's illness, which prevented him from attending Chicago's morning shootaround.
Butler, who was named the NBA's Eastern Conference Player of the Week earlier Monday, played just 28:48 and finished with one point. He went 0-for-6 from the field, 0-for-2 from the three-point line and was removed in the second half because of the illness.
Dwyane Wade had 22 points, Michael Carter-Williams added 15 and the Bulls (19-19) got 11 points each from Jerian Grant and Cristiano Felicio.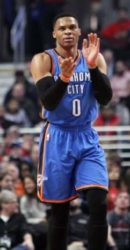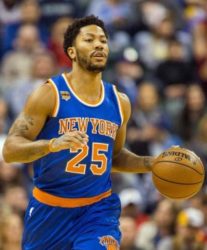 It wasn't nearly enough to stay with the Thunder, who had three players join Westbrook in double-figure scoring, including Steven Adams (22 points), Enes Kanter (20 points) and Victor Oladipo (13 points).
Oklahoma City led most of the first half, building a 17-point margin in the second quarter and taking a 61-46 lead into the locker room at halftime.
Chicago pulled as close as 67-57 on a three-point play by Taj Gibson (9 points) with 6:51 left in the third, but that was as close as it would get.
The Thunder went on a 9-0 run in the final three minutes of the third to blow the game open and continued their onslaught in the fourth. The victory ended a four-game road losing streak for Oklahoma City, which won its second straight game overall.
Meanwhile  New York Knicks guard Derrick Rose did not show up for Monday's game against the New Orleans Pelicans,  the Reuters News Agency reported.
Prior to the opening tipoff the Knicks said he was not with the team but provided no other information. The New York Daily News reported that Rose was with the team at morning shoot-around but did not appear in the locker room for warmups.
The Knicks' Joakim Noah said he had spoke with Rose following the game, which they lost 110-96. "I think it's a relief for all of us," Noah said. "I don't really want to talk too much about it because I don't really know the situation. I'm just happy that everything is okay."
Knicks coach Jeff Hornacek said following the game that he expected Rose back but had no information on the absence.Rose, 28, has been struggling as of late for the Knicks (17-21) and was benched for the full fourth quarters of consecutive games prior to Monday.
Rose, averaging 17.3 points per game, missed much of the preseason when he was accused of sexual assault in a civil suit. He was later cleared by a federal jury.
NBA results
(Gracenote) – Results from the NBA games on Monday (home team in CAPS) Oklahoma City 109 CHICAGO 94 MINNESOTA 101 Dallas 92 New Orleans 110 NY KNICKS 96  
Around the Web