Former Guyana Football Federation (GFF) Chief Christopher Matthias said that CONCACAF is within its right to debar Slingerz FC and Alpha United from participating in the 2017 CFU Club Championship.
In an exclusive interview with Stabroek Sports, he said "You have to be good in standing with your governing body, and if by your conduct you are not in good standing, how can the higher governing body recognize and/or accommodate you".
He further affirmed, "If you are a club of the Guyana Football Federation (GFF) and not in good standing, how can you go to play in CONCACAF?"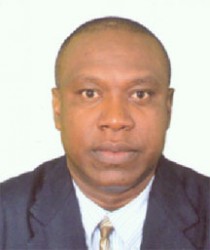 After months of uncertainty, CONCACAF in written correspondence to the federation, ruled that 2016 Stag Beer Elite League winner Slingerz FC and runners-up Alpha United are ineligible to participate in the 2017 CFU Club Championship.
According to an official release from the federation, "CONCACAF has informed the GFF on January 9 last, that Alpha United FC and Slingerz FC will not be allowed to participate in the 2017 Caribbean Club Championship since the Regional Body has deemed that the clubs are not in good standing with the GFF".
The two clubs along with Pele FC and Georgetown Football Club (GFC) withdrew from the second season of the Elite League, after being at loggerheads over several issues with the GFF.
Quizzed if CONCACAF needs to explain the reasons behind their decision, Matthias declared, "They have explained, they have given a reason but you might not like the reason. What more of an explanation do they need to give?"
According to Matthias, "Are they [the clubs] going to the local courts to issue an order to the GFF that mandates CONCACAF to allow them to play in a CONCACAF hosted tournament. I suggest they view the constitution that they signed onto in one hour".
Slingerz FC through their Club Manager Collin 'BL' Aaron had declared that the Vergenoegen club will initiate legal proceedings against the federation if they are not allowed to compete in the regional tournament.
This declaration transpired prior to CONCACAF ruling that the teams are ineligible to participate in the Club Championship.
He posited, "They are bound by rules", noting there is a protocol to be followed in dealing with disagreements, starting from the GFF level, and ultimately, ending at the Court of Arbitration and Sports (CAS) in Zurich, Switzerland if not satisfied. Matthias further added, "How can you take the GFF to court, and on what basis?"
Asked if the clubs should be relegated and in the process, lose their voting rights for their actions, Matthias said, "This makes for an interesting discussion, simply because when the effort was made to undermine our developmental program, the argument advanced was that associations like Bartica, Essequibo did not have their voting rights because they were not playing football, but they were not banned, expelled or resigned from the GFF".
Matthias indicated, "If that argument was held then it should be held now. It is a known fact that if you are not playing football by your own volition, then you can't expect to be rewarded with a promotion because it would be ludicrous. That was the argument Alpha United President [Odinga Lumumba] and his team had advanced that these associations [Bartica and Essequibo] should not have voting rights because they were not playing football".
He further stated, "It would be unfair to the teams currently playing for them to be relegated and those who are not playing not be relegated, that is straight forward. How can you reward someone who is doing nothing? The promotion and relegation concept is a reward concept, so you can't promote someone who is doing nothing and relegate someone who is doing something, it makes no sense".
Questioned if the GFF has infringed on any constitutional rights of the club, Matthias said "They have not, CFU and CONCACAF have ruled, and you have signed on. These individuals sat down at a fancy meeting at the Marriot Hotel and signed onto a document which binds them".
In a ballot of unanimity, the GFF in the presence of FIFA Head of Member Associations Primo Cavaro, adopted a new constitution on June 26th 2015.
"I would respectively suggest that they go back to the very document they signed onto in one hour, a document which took the Trinidad and Tobago FA two years to develop with brilliant legal minds, they went and accepted in one hour. They need to go and look back at the document" he added.
Around the Web