The Guyana Football Federation made a financial donation to Golden Jaguars and Alpha United player Delon Lanferman on Tuesday.
The presentation which was done by President Wayne Forde at the entity's boardroom, was to assist the former Den Amstel player after he was reportedly stabbed on December 31st 2016 [Old Years Night] by a man, who accused him of throwing a firecracker in his direction.
Marcia Lanferman, the player's sister said she was happy with the donation.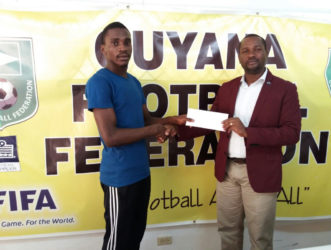 "I feel thankful for the donation because it will help him a lot with medication," she declared.
According to her, while her brother has been discharged from the hospital and his condition is listed as stable, he is experiencing high temperature at night and thus he will visit a private medical institution for further analysis.
She, said however, that she remains thankful that no major body part was damaged during the attack, which occurred in Stabroek Square and is hopeful for a speedy and complete recovery to enable her brother to return to the game he loves. She is also hopeful for the swift arrest of the perpetrator.
"Forde, in brief comments, expressed the federation's pleasure to be of assistance to the footballer and extended best wishes for a speedy recovery on behalf of the football fraternity. He expressed the hope that the player receives the necessary support from his colleagues and the fraternity in his recovery process."
Around the Web