The Ministry of Education (MoE) through junior Minister Nicolette Henry yesterday handed over a cheque to the Guyana Cricket Board (GCB) in support of the second annual National Secondary School Cricket League (NSSCL).
According to a release from the GCB, the money will be used to purchase cricket balls for the tournament.
"The GCB is proud to be associated with the Ministry of Education and its National Sport Commission in conducting and promoting the NSSCL. To date, it has been a fruitful and purposeful exercise. The GCB/MoE NSSCL has enabled the GCB coaching personnel to identify young talent, to groom such talent and where found necessary, align student-players with associations, counties and/or national teams," a release from the GCB stated.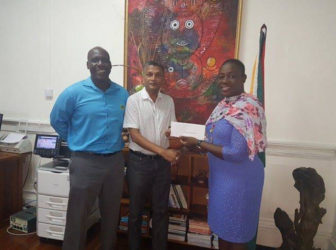 In the inaugural tournament over 150 schools were reported as participating in the tournament with some of the players going to participate in Inter-Association and Inter-County tournaments.
According to the GCB, this year's tournament will allow the board to assess the talent existing in the schools.
"The NSSCL structure has been absorbing our young talents while ensuring that at the school cricket level enough cricket of high quality is played countrywide, and thereby enabling our technical staff to properly assess and measure talent and tract and promote such talent along a systematic pathway of development," stated the GCB release.
"Such a systematic development pathway has allowed the NSSCL structure at an early age of students' life, to promote a culture of professionalism among and between teams and players, make them more recognised and marketable, as well as making the NSSCL a more marketable activity," the release added.
According to the GCB, the league encourages and demands higher levels of investment and productivity from the players and increases interest in the sport.
As a result, the players are willing and able to dedicate more time, energy and finance on their game.
"As such, the GCB finds the collaborative venture with the MOE, as a critical development initiative which continues to promote a positive impact on the structure of school cricket and its participating student/players and which has made school cricket more organised and competitive, by creating a wider pool of players for the GCB to monitor and select from," the release ended.
.
Around the Web