After placing second a week ago in the Guyana Cycling Federation (GCF) 75-mile road race, Paul DeNobrega took his talents to the National Park yesterday and raced away with the spoils of the feature 35-lap event of the 26th R&R International 11-race programme.
For the second consecutive week, DeNobrega (Evolution) outsprinted Hamza Eastman (Team Coco's) and Shaquel Agard (Linden Bauxite Flyers) who joined him on the podium.
DeNobrega, who also won a sprint prize, completed the event in a brisk one hour, 15 minutes and 31 seconds. He won by a wheel ahead of the sprint ace Eastman who snared four of the eight sprint prizes to register his first win of the season.
Last week's race winner, Jamaul John finished fourth while Andrew Hicks and last year's event winner, Michael Anthony, completed the top six rewarding positions.
Before the signature event of the programme organized by Hassan Mohamed, there were eight other events.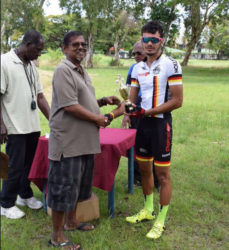 The winners were:
Briton John (Juveniles, 10 laps)
Wayne Nurse (Mountain Bike)
Thuran Garbarran (BMX 12-14 Years, 3 laps)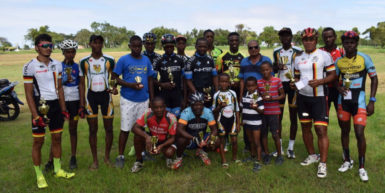 Kenwyn Collins (BMX 12-14 Boys and Girls)
Ian Jackson (Veteran's Under-50 Years (5laps)
Andrew Spencer (Veteran's Over-50 Years, 5 laps)
Ajani Cutting (BMX Boys 6-9 Years, 2laps)
Alex Leung (BMX Boys 9-12 Years, 3laps)
The riders will now take their talents to the Ancient County this morning to compete in the initial leg of the Burnham Memorial Three-Stage road race.
Today's leg rolls off at New Amsterdam, journeys to Rose Hall and returns to New Amsterdam to finish.
Next Sunday, the second and third legs will take place. In the morning, stage two starts in Linden and finishes on Homestretch Avenue, while the final commences on Homestretch Avenue, proceeds to Belfield and returns to the point of origin for the conclusion.
Around the Web