Popular businessman and undisputed Bartica Regatta racing champion Davenarine 'Dave Scott' Persaud has promised that he intends to once again be crowned champion this year.
Persaud, in an exclusive interview, said that he hopes that other racers will up their game thus ensuring that patrons can witness a very competitive meet.
Regatta 2017 is from April 15-17.
Persaud, who won his first racing champion title in 2001, said that as he continues to grow in terms of experience, his skills and techniques have improved correspondingly.
As such, he said that it will take an exceptionally gifted racer to dethrone him.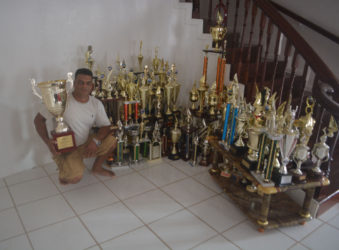 He pointed out that he enjoys every moment of the Regatta adding that despite the evident flaws and hiccups in the execution of the event, both competitors and patrons are generally satisfied with the event.
"We evidently have problems as there are several challenges from both the racers and organisers but at the end of the day the ultimate goal is to ensure that patrons can leave feeling a sense of satisfaction," he said.
Giving an insight into his very competitive career, Persaud said that a very competitive regatta will help to ensure the quality and standard of the sport continues to improve.
He said he has no fears with enhanced competition as he has no plans of being defeated this year.  "Once a champion always a champion and I am determined to come out victorious again this time," Scott boasted  He said that using boats on his way to school helped to shape his racing career as himself and his school friends would paddle the boats with the aim of seeing who would be the first to cross the river.
He says that he originated from Lalaballi thus the reason for him having to constantly use boats adding that his regular handling and interaction with boats helped to fuel his passion for boat racing.
The accomplished racing champion, who credits his father for introducing him to the sport, said that after moving to Bartica he was encouraged in 1997 to participate in his first Regatta where he made a name for himself at the Mainstay Lake Regatta.
He said that he won the championship that very year and he also won titles in 2001, 2003, 2004, 2006, and 2009.
Since 2012 he has not lost the champion racer title.
Persaud disclosed that he has already began preparing for this year's event, stressing that his determination and commitment to the sport is unequalled.
Commenting on the likelihood of being injured, Persaud said that this is a reality but said that he puts the required systems in place so as to avoid any accidents.  "In 2009 I had brought in a brand new boat but that very year I was involved in a competition resulting in me gaining certain injuries which included severe damages to the boat," he said.
However, despite my accident, I remained determined to succeed. I returned to the sport as it goes beyond me being passionate and that is why I remain thankful," he said.
He revealed that he enjoys competition thus his determination to continue.
Quizzed on what can be regarded as his primary reason for success he said that careful planning and preparation is of paramount importance if anyone is going to succeed.
Persaud said that because of his hunger for success he invested in a world class boat in 2011 and it continues to pay him dividends as each year he continues to hold unto the champion racer title.  The businessman said  that as a precautionary measure  he, like a few other racers, have opted to stop building boast specifically for the Regatta, resulting in them investing heavily in specially made boats which they acquire from the United States of America. He pointed out that the Capsule built boats are made specially so as to protect the driver from any major accident or any boat running or crashing into it.
In giving words of advice to young racers who intend to follow in his footsteps, the father of three said: "It's not a simple sport and most importantly it's a very expensive sport so my advice is that youths getting into it must be determined and prepared to go all the way.
"This is not just jumping into a boat and speeding but rather it requires significant and regular training so if you are going to get involved realize that you must be prepared to adhere to all the rules and regulations and take all the safety measures," Persaud, who is going after his sixth successive champion title noted.
"Anyone who is determined, disciplined and dedicated can go very far in this sport. However, like any other sport, you must be prepared to train, train, train while being determined to withstand whatever pressures and challenges that come your way."
He said that one of his greatest enjoyment of the sport comes from the invaluable support and encouragement that his family gives to him declaring that they play a major part in his continued success.  "If my family was not there for me all the way every time I couldn't have achieved all of this as it is their love and support that have helped me to become the champion that I am today," he declared.
Around the Web