Andre 'Padlock' Greene outrode Paul DeNobrega and Jamal John in a thrilling three-man sprint finish to cart off the spoils of the feature 35-lap event of the Star Party Rental criterium programme yesterday. The Berbician, who recorded his first signature win of the season, stopped the clock in a brisk one hour, 15 minutes and 38 seconds in perfect conditions for racing at the National Park.
His heroics, which measured about a half a wheel, broke the win streak of riders from Team Coco and the Linden Bauxite Flyers (LBF). Riders from the two clubs along with DeNobrega of Team Evolution have dominated the local cycling circuit this season.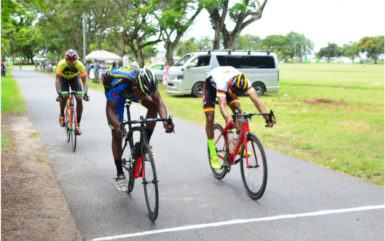 Deeraj Garbarran finished fourth while Hamza Eastman (Team Coco) and Team Alanis' Alonzo Ambrose filled out the top six rewarding positions.
Greene, DeNobrega, John and Garbarran were part of the eight-man break away group which was established from the third lap.
The chasing peloton of 27 riders throttled hard in an effort to connect with the leaders.However, the wheelsmen up front were able to hold off their charges by interchanging the lead and the responsibility of pacing.   After the 10th lap, the top four upped the ante and separated  themselves from their breakaway mates, Kemuel Moses, Jeban Crawford, and Mark Harris. Once again, teamwork then allowed them to ride without the chasers reconnecting for the remainder of the race. Expectedly with about 150m left, the leaders threw teamwork out the window, rose from their saddles and barreled to the line. Greene, who is a star on the saddle in the Ancient County, had just enough left in the tank to upset the more seasoned DeNobrega. John, however, took six of the eight sprint prizes on offer.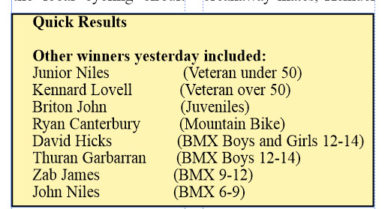 The programme's, organizer, Hassan Mohamed, congratulated the competitors for making the fixture a success. He was also in praise of Star Party Rentals for sponsoring the event for the fourth consecutive year.Mohamed's cycling calendar of activities will continue April 2 at West Demerara with the PowerAde 50-mile road race.
Action starts at Wales Police Station from 08:00hrs, proceeds to Parika and returns to Schoonord for the finish. (Emmerson Campbell)
Around the Web