Masters Academy, Morgan Learning Centre, Sir Leon Lessons and Carmel secured quarterfinal berths when the round of 16 section in the fifth annual Milo U18 Secondary Schools football championships commenced yesterday.
Staged at the Ministry of Education ground, Carifesta Avenue, Masters Academy schooled Tutorial High 12-1. Calvin Peters recorded a helmet-trick in the fifth, ninth, 32nd and 36th minute while Tyron Khan recorded a hat-trick in the 52nd, 60th and 62nd minute.
Chipping in with a double in the 58th and 64th minute was Dorinyn George while O'Neil Glasgow,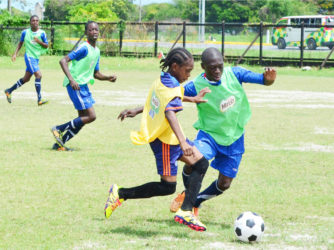 Ryan Dowden, Carl Lynch and Andel Smith netted in the first, 28th, 41st and 47th minute respectively. On target in the loss was Zion Gray in the 57th minute. Sir Leon Lessons dismantled Dolphin Secondary 7-1. Adrian Aaron tallied a helmet-trick in the ninth, 40th, 57th and 59th minute while Omari James, Meshach Barratt and Dexter Blue scored in the 56th, 60th and 65th minute respectively. For Dolphin Secondary, Shemar Welch netted in the 68th minute. Morgan Learning Centre crushed East Ruimveldt 7-0. Chris Casey bagged a brace in the 44th and 55th minute while Orin Moore, Lionel Holder, Daniel Clarke and Daniel Floyd scored in the 30th, 34th, 53rd and 62nd minute each.
Meanwhile, Carmel Secondary downed former winners Lodge Secondary 1-0. Darrel Niles netted in the 55th minute. The tournament will continue today at the same venue with second round matches in the round of 16 division. At 11:00hrs, Queenstown engages Buxton Youth Developers.
Meanwhile, School of the Nations matches skills with Pure Masters from 12:30hrs in the second contest. This will be followed by the third fixture at 14:00hrs which will witness Queens College locking horns with hated rivals the Bishops High.
The final match of the section will pit two time defending champion Chase Academy against former losing finalist South Ruimveldt from 15:30hrs. Upon the conclusion of the round of 16 stage, the event will progress to the quarterfinal round.
Around the Web