By Royston Alkins
Assistant Regional Director of the International Basketball Federation (FIBA), Victor Mansure yesterday outlined a number of new initiatives to take the game forward during a press conference at Palm Court, Main Street.
Mansure's visit to Guyana is to have a first-hand look at the state of basketball in the country and to emphasise the importance of the new developmental models which are all geared towards enhancing several aspects of the sport.
In 2014, FIBA not only changed its governance structure, it also introduced a new competition system while also focusing on its new three-on-three pillar but, according to FIBA'S official website, "2017 marks the beginning of a new era for basketball all over the world."
Mansure said FIBA has created a central branding image for the sport. No longer will there be a FIBA Americas or FIBA Africa.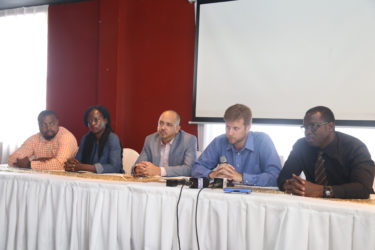 They will all fall under the umbrella branding of `One FIBA' which will be visible on the federation's website, uniforms and all other branding concepts, it was disclosed.
Meanwhile the new competition structure will see FIBA implementing six window periods for qualifiers that takes place over a 15-month period in the four regions namely Africa, Americas, Asia (including Oceania) and Europe.  During that time, there will be regular home-and-away games for fans and sponsors alike to enjoy the nuances of the sport it was disclosed.
"FIBA has now decided to change its competition system which is exciting. You guys would know that we used to host the CBC tournaments that would qualify you for the Centro Basket where the winners of CBC and Central America qualified for COPA America and the Americas Cup with the best of the continent and then from there, you got to the World Championships and the Olympic Games."
He added: "So FIBA was doing some studying where we looked at soccer, volleyball and a few others and they decided that the system that we have now does not allow the players to be active. For instance, Guyana hosted a youth tournament but when was the last time the national teams played at home?"
According to Mansure, FIBA will incorporate the home-and-away system, rather than playing tournaments in the summer, to fill the gap of teams not playing on home soil much like what happens with soccer with six window periods expected to give players the opportunity to represent their country and earn the opportunity to make it to the next FIBA World Cup in China in 2019.
This new undertaking is also geared towards exposing fans, particularly the younger ones, to experience the game at its highest level with the hope of peaking their interest to be 'Like a Mike'.
Mansure called it an attempt to create idols.
Meanwhile, the new three-on-three pillar focuses on developing the sport at the grassroots level.  "The three-on-three is not to take out the five-on-five, as a matter of fact, it's to add on the five-on-five. When you learn to play the game you don't start with five-on-five right away you start with the two-on-two and the three-on-three and in that way, it's a great teaching tool that can be used to get persons involved with basketball to learn the game.
"So three-on-three is a pillar that would need to have a strong federation because it's easy to setup and it's easy to get kids involved and there will be several international competitions to be taken care of," he said.
Michael Singh, former president of the Georgetown Amateur basketball Association (GABA) touched on the significance of the changes stating:
"This gives us a benchmark to know where we are at and it also ensures that we are compliant with a lot of the things that FIBA are expecting of us."   Mansure will visit a number of the local facilities in Georgetown, Linden and Berbice to get a better understanding of the basketball culture in Guyana for his report. He will also have a sit-down with the Director of Sport, Christopher Jones, to discuss government's role in embracing and supporting FIBA's new structure.
FIBA decided two years ago to start visiting all 214 national federations to do a complete assessment in an effort to get a better understanding of what was happening in each country to know what was going on and what needed to be worked on.
This is the 10th country Mansure has visited in the last year-and-a-half with Guyana being his last stop after which he'll complete a report to be submitted to FIBA's congress in May to develop individual country Development plans which FIBA will then send to Guyana to begin implanting.
Around the Web