PORT OF SPAIN, Trinidad, CMC — Trinidad and Tobago Red Force's dismal form in the ongoing Regional four-day championship has forced head Coach Gus Logie to the brink of quitting of his post.
The former West Indies player and head coach told the Express newspaper here he planned to review his position at the end of the season, hinting that maybe the time had come for a change.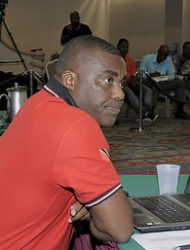 "You are going to see me but I don't know where you are going to see me. You always have to consider your future," Logie said.
"As a coach, as much as you want to motivate people you have to be motivated as well. You can give as much as you can [but] if you are not getting anything back … at the end of the day you've got to look at your future [and ask] is it necessary. Is it worth it at the end of the day?"
He added: "Of course I always consider my future in anything that I do. I think if it is not going well I'll tell myself this is basically the last season for me and at the end of the day I hope that whoever comes on board, they do a better job."
Logie is an experienced coach who oversaw West Indies' capture of the 2004 Champions Trophy in England and also led Bermuda to their historic qualification for the 2007 Cricket World Cup in the Caribbean.
He assumed his current post when the West Indies Cricket Board introduced the Professional Cricket League three seasons ago, and has been met by mixed success during his tenure.
Red Force won just twice en route to finishing one from bottom of the six-team standings in the 2014/15 season and improved only marginally last season, picking up three victories as they finished fourth.
Last weekend here, they lost for the fifth time in eight outings this season to crash to the bottom of the standings with two rounds remaining.
Though not identifying names, Logie lamented the absence of players who he said would improve the side.
"Maybe after this the players who sit in the pavilion will start playing for Trinidad and Tobago again instead of staying where they are," he said.
"Many times the national team is playing and some of the better players are playing elsewhere. As much as you can do, at the end of the day you can only work with what you have."
Very few Red Force players have enjoyed success this season with newly installed captain, Kyle Hope, perhaps the only stand-out with 649 runs at an average of nearly 50.
Yannic Cariah has been the next best batsman with 456 runs while in the bowling, seasoned leg-spinning all-rounder Imran Khan has claimed 32 scalps. No other bowler has passed 20 wickets.
In a frank assessment of his role, Logie conceded that maybe his methods were not being effective.
"If the players are not able to respond the way you want them to respond, if the philosophy you have is not taking root as a coach you have to re-assess," he pointed out.
"At the end of the day everybody wants to see the players and if they are not performing, coaches are a dime a dozen and if you've got to go, you've got to go.
"So yes I will make a decision [on my future], there is no two ways about it, at the end of the day if you've got to move on, you've got to move on, that's life."
Red Force travel to Bridgetown to face the powerful Barbados Pride in the ninth round beginning April 7.
Around the Web