When you think of sports here, a few specific disciplines probably come to mind: cricket, football and track and field. Events like weightlifting might not be on your radar quite possibly because weightlifters, have not fared very well in that sport in a while. Either way, that has all changed thanks to Matthew Assing, who just won bronze at the just concluded Manuel Suarez Championship in Cuba.
Guyana's lone representative at the event snared bronze in the 69kg class with a total of 170kg. He snatched 80kg and jerked 90kg.
Cuba's Felix Ugarte lifted the gold while Panama 's Abdiel Batista snatched silver.
This is the first international medal a local weightlifter has won in quite some time.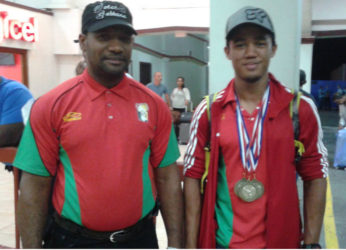 The Guyana Amateur Weightlifting Association (GAWA) would be hoping that the success continues at the World Masters Games scheduled for Auckland, New Zealand, from April 20 to 30.
Assing was one of three lifters selected by GAWA to attend the championship, however, due to the lack of funds the other two athletes Jonathan Ford and Krystal Chandraban were unable to attend. The association is very happy to have had the opportunity to participate and score a bit of success. Hence, the GAWA would like to thank the Friendship Oxygen Co. and the Guyana Olympic Association for their financial assistance, which contributed to the process.
Around the Web