If you are a fan of Track and Field, Cycling, Dominoes, Cricket and/or Football, then the place to be on April 30 is the Police Sports Club Ground, Eve Leary.
On that day, the second staging of the Boyce/Jefford Relay Festival and Family Fun Day will be held and patrons will have a chance to win numerous gate prizes.
These and other details were disclosed to the media during the launch of the event yesterday at Palm Court.
According to one of the organizers, Edison Jefford, last year's inaugural fixture exceeded expectations and the Boyce/Jefford Committee has now agreed to make the spectacle an annual affair.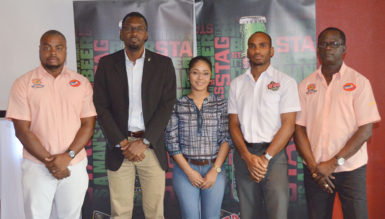 "We exceeded all expectations last year where we filled the Police Sports Club Ground to capacity, this year we expect similar patronage from sports fan and enthusiasts," Jefford said
Aside from the relay events which is the main attraction, the day's activities will be complemented with two cycle races, domino competitions, football and cricket matches.
This year's event will see the addition of the 4x200m and 4x400m mixed relays, which will involve teams comprising of two males and two females each. These two events will join the other eight already on the programme.
The sum of $25,000 will go to winning team, $15,000 for the first runners-up and $10,000 for third place.
The cycle races will also carry prizes of $50,000 each with the same breakdown. The two races will be a male Devil Takes The Hindmost and a female 2000m.
Elsewhere on the bill, there will be a "Kid Zone" with bouncy castles, trampolines, face painting and other attractions.
Four gate prizes of $20,000 in cash and household items will also be up for grabs.
In total, there will be in excess of $1 million to be won.
During the press briefing, remarks were also made by Director of Sport, Chris Jones, Palm Court's Manager, Sasha Lewis and Stag Brand Manager, Lindon Henry. (Emmerson Campbell)
Around the Web