With ace drivers, Kristian and Kevin Jeffrey confirming their participation in Sunday's Race of Champions, the anticipation of racing fans has been further heightened.
The South Dakota Circuit will definitely be the place to be in two days.
The Jeffrey name has become synonymous with winning and pushing their built-for-speed machines to the limit and fans can expect pretty much the same on Sunday.
With Kristian racing away with the Caribbean Motor Racing Championship (CMRC) best driver award the past two years, it is safe to say that he is currently the Caribbean's number one racer and main attraction on any circuit in the Region.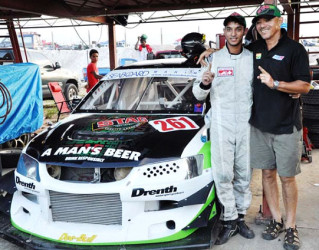 Fans will have an up close and personal reminder of what he hides under the hood when he takes his talents to the track in his Mitsubishi Evo V111.
The father-son rivalry will no doubt add more heat to the flammable speedway on race day.
Said the elder Jeffrey "It's something that always is a race day thing. He is fast and I'm fast, so it's about seeing who comes out ahead on race day." Kevin added
"He knows that I won't go easy on him and vice versa, because when we are on the track to compete, we are competitors."
Some sponsors for the event include  Ansa McAl, through the STAG Beer brand, ExxonMobil, Fly Jamaica, Seaboard Marine, Tony's Auto Spares, Japarts, Choke Gas Station, CARICOM Auto Sales, E Networks, S. Jagmohan Hardware supplies, Truck Masters and Jialing. (Emmerson Campbell)
Around the Web