The National Milling Company (NAMILCO) joined the growing list of companies to support the Petra Organization Futsal Championship, donating the second place package of $200,000 yesterday at a simple presentation ceremony held at the entity's Agricola Headquarters.
Fitzroy McLeod, NAMILCO Financial Controller during the feature address said, "Petra has made its mark impacting the communities and schools through football".
According to McLeod, the company, which is a 48 year veteran of the food industry, delivers products that are manufactured at the highest level of international standards, and as such, "partner with the Petra Organization to deliver a tournament of the highest quality."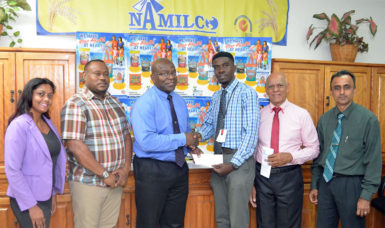 Meanwhile, Troy Mendonca, Co-Director of the Petra Organization observed, "Our communities are faced with many social ills and we think that through sports and recreational​ facilities, the communities can get stronger or healthier".
According to Mendonca, "Over the past decade we have been involved in hosting events and are happy to have NAMILCO on board with the tournament. We want to applaud NAMILCO for coming on board and continuing their corporate and social responsibility."
"Their contribution will go a far way and on behalf of the Petra Organization and the football community at large, we want to thank Managing Director Bert Sukhai and the other Executives​for their contribution towards sports development," he added.
Up to press time, the final round of group fixtures were underway at the National Gymnasium on Mandela Avenue. Winner of the tournament will collect $400,000 and the championship trophy while the runner-up will pocket $200,000 and the corresponding accolade.
The third and fourth place finishers will collect $100,000 and $50,000 respectively and the respective accolade. The event is slated to conclude on April 15th.
Around the Web