Interim Head-Coach of the Golden Jaguars senior team Wayne Dover feels  his track record and recent outing against Martinique justifies the role on a more permanent and long term basis.
In an exclusive interview following Guyana's scoreless draw with Martinique  Dover declared: "Given my track record and the recent outcome I am more than deserving of being the head-coach of the national team for a stint of two years or more".
He added"Over the years, being involved in coaching at the senior level, I have worked as the assistant coach under Naider Dos Santos and had a stint during 2005-2010. During that period, my achievements over the years have proven that I should be elevated to the job."
Asked if he was satisfied with the team's overall performance, Dover said, "I am satisfied based on what we worked on during the sessions because we spent more time on defensive organization and for us not to concede showed that we would have achieved our objective in not allowing any goals to score. We went out on the night with an aim of not conceding and to not lose the game."
Although managing to secure a clean sheet, Guyana failed to record any chances on target against the French visitors, with the offensive line recording only two shots off target in the entire match.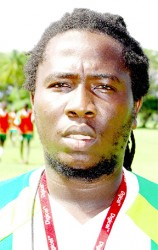 Quizzed if the preparation time was adequate given the eventual performance of the team, Dover said, "I think the time that is allotted to the member associations for international players, we as coaches have to live with that and make the best of those days to prepare the team more from a tactical standpoint because all the players will be in a season and that in of itself will tell you they come at level of fitness. The fact that its senior players, all the fundamental and technical abilities should already be intact and we just have to organize them for the game."
According to the former Alpha United tactician, "I was surprised they would have pressed so high in the first half. Given the fact that they played Sunday [against Barbados] and travelled on Tuesday, I thought they would have been more conservative, but they tried to take the game to us. Most of the first half they had possession, created many opportunities from gaining free kicks at the top of the penalty box and a number of corners which is one of those things we spoke about not to concede in the first half". Questioned if the surface in any way hampered or impeded the possible performance of the team and the overall quality of the contest, he said, "Both teams were slated to play at the same venue and I would say on the night in question, whoever utilized the surface better, would have enjoyed the quality of their own play to impose their self on the other".
He added "We saw Martinique quickly adapting to the conditions and they looked very comfortable in most of the first half. I wouldn't blame the surface for the outcome of the game, Martinique displayed a high level of technical and passing ability during the game. Until we finally settled down in the second half, you saw Guyana putting together a couple of passes. That is a clear indication that the surface is not to blame for the outcome of the game."
Around the Web