The number of certified Sports Administrators in Guyana has grown to 28 more following a Sports Administrators course last Sunday at the Bartica Learning Resource Centre Region 7.
The course was facilitated by The Guyana Olympic Association (GOA) in conjunction with Olympic Solidarity, the training arm of the International Olympic Committee (IOC).
According to a press release from the GOA, the course brought the number of Olympic Solidarity training programmes to three of which have been held outside of Georgetown for Sports Leaders in Guyana.
The first two (2) courses were held in Berbice (New Amsterdam) in 2007 and Linden (Mackenzie) in 2009.
The participants this year were drawn from all across Region Seven including such areas as Paruima, Jawalla, Waramadong, Kamarang, Isseneru, Imbaimadai, Quebanang and Kako.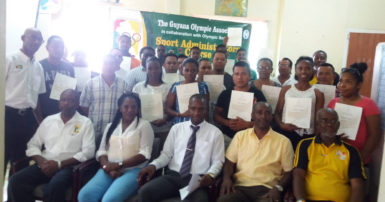 Apart from the IOC-certified Lecturers, a number of other individuals such as Chief Justice (a.g) Madam Roxane George assisted with presentations. Her presentation was titled "HIV/AIDS and sports and the protection of Youth."
Other guest Lecturers were Tricia Fiedtkou who spoke on "Sports for All", Donald Sinclair, Director General of the Ministry of Tourism whose topic was "Values and Ethics in Sports" and Theodore Henry, Coach of the Guyana Rugby Football Union whose contribution by way of Lecture and Practical demonstrations was "Strength and Conditioning in Sports". Dr. Karen Pilgrim dealt with "Women in Sports", while Ms. Emily Dodson, Attorney at Law, looked at "Sport and the Law".
A number of other topics were delivered by Course Directors Mr. Charles Corbin, Mr. Claude Blackmore, Mr. Garfield Wiltshire, Ms. Mayfield Taylor-Trim Mr. Noel Adonis and Mr. Hector Edwards.
Participants also took part in a Panel discussion: "What Steps need to be taken and by who to secure Guyana's next Olympic medal."
The top three (3) graduating students were:
Mr. Clinton Bobb       –        Guyana Teachers Union
Mr. Leon Stewart       –        Phoenix Sports Club
Mr. Raphael Hunter   –        Upper Mazaruni District Sports Council
The course was not without its "high points" as visits were received from Speaker of the National Assembly, Dr. Barton Scotland and Parliamentarians. The Opening Address for the course was done by Regional Chairman, Mr. Gordon Bradford while the Closing Address was delivered by the Mayor of Bartica, Mr. Gifford Marshall.
Around the Web