The 'Locked and Loaded' card has been pushed back to add a bit more international flavour and ammo to the cache.
Initially scheduled to box off on April 9 at the Giftland Mall, the Pro/Am card will now be staged on April 23 to accommodate the addition of a Mixed Martial Arts (MMA) segment.
These and other details were disclosed yesterday at the Pattensen edifice by President of the local professional boxing board, Peter Abdool and Jason Fraser, President of the Trinidad and Tobago's MMA Federation.
Fraser noted that the event will be a 'historic' one owing to the fact that on April 23 will be the first time that sanctioned MMA  bouts will be held in the 'Land of Many Waters'.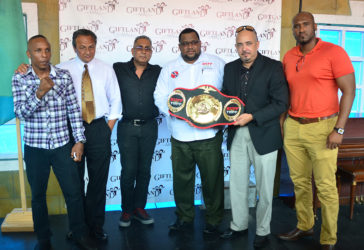 "MMA is the next big thing and this will be a historic event for the Guyanese public to witness. We are happy to be a part of such a historic occasion" Fraser added in his sing-song accent.
Fraser guaranteed that the April 23 event will not be a one-off MMA card in Guyana and looks forward to collaborating with the boxing board for future cards.
When questioned by the media, Fraser disclosed that the MMA segment of the fixture which starts at 19:00hrs will comprise of two professional fights and five amateur match-ups.
Trinidad's Joshua Walkins, Martin Joseph and Guyana's Shaneeze Bobb were some of the fighters named to throw bombs on the MMA segment of 'Locked and Loaded'.
Despite the addition of seven fights, the initial $2000 admission for ringside and $1000 for general seating stays put.
Meanwhile, the knockout night of boxing will be headlined by the flashy Dexter 'De Kid' Marques.
The showman flyweight who has not fought since last February will look to shake off some ring rust since his promotional team has already lined up a Commonwealth title fight with their sights set on a world title crack later in the year.
Marques (15-2-0) will match gloves with Venezuelan, Luis Alberto Requena in a 10-round affair.
Elsewhere on the bill, Edmond 'Wonder Boy' DeClou faces Winston Pompey while Imran 'Magic' Khan will take on Keeve Allicock in a four-round lightweight bout.
There will also be three amateur bouts.
Stabroek Sport will keep readers updated as events for 'Locked and Loaded' unfold. (Emmerson Campbell)
Around the Web