Two-time defending champs Chase Academy sealed their semi-final berth in the Milo Secondary Schools football championships, schooling Pure Masters 7-0 yesterday at the Ministry of Education ground, Carifesta Avenue.
Although it took 24 minutes for the holders to get on the score sheet, the contest would effectively be over at end of the first half due to a 4-0 margin.
Reshawn Ritch broke the deadlock with an unchallenged header into the left corner after an initial headed attempt crashed onto the crossbar and fell into his path.
Job Caesar made it 2-0 five minutes onward, smashing a powerful effort into the lower left hand corner from inside the centre of the box.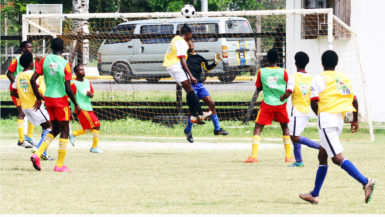 The score ballooned once again as, Nicholas McArthur netted in the 30th minute with a volley from outside the box into the left corner, after collecting a right side cross Caesar.
Jeremy Garrett then applied the finishing to a lopsided half compliments of a lobbed shot from 23 yards out in the centre of the field, which sailed into the top left corner.
The score was then sealed in the second period when three more goals were scored. Malachi Adonis netted in the 67th minute while Ryan Hackett bagged a brace in the 70th and 90th minute respectively.
With the win, Chase Academy will now oppose Sir Leon Lessons in the semi-final fixture while Masters Academy sealed a date with Morgan Learning Center after edging Buxton Youth Developers 2-1.
Calvin Peters and Akeem Giddings were on target in the 45th and 67th minute respectively. For the losing team, Ablamy Robertson scored in the 29th minute.
The semifinals will be staged Wednesday at the same venue, with Morgan Learning Center battling at 16:00hrs and Sir Leon Lessons opposing Chase Academy at 18:00hrs.
Winner of the tourney will receive $500,000 towards a school project and the championship trophy while the second, third and fourth placed sides will pocket $300,000,$200,000 and $100,000 respectively towards a school initiative and a trophy.
Around the Web