By Royston Alkins
The Guyana National Industrial Corporation saw off a defiant 13-wicket match haul from Transport Sports Club's (TSC) off-spinner Rafael Singh to claim first-innings honors and the title when the Georgetown Cricket Association (GCA)/Noble House Seafoods two-day, second division final at Georgetown Cricket club (GCC) Bourda ended yesterday.  TSC, one of the most consistent second division teams in Georgetown, in their second consecutive final, after losing to the University of Guyana in 2015/16, had to settle for first runners-up in yet another two-day final after failing to cross the line once again. Earlier in the day, TSC resuming their first innings on 68-6, 99 runs behind with four wickets in hand, saw their overnight pair of Shawn Massiah and Azeem Azeeze playing steadily.
Azeeze punched a delivery from off-spinner Gajanan Suknanan through the covers for four while Massiah drove the same bowler exquisitely down the ground.
However, Suknanan struck by removing Azeem (8) ending a 22-run partnership which started to look threatening to leave TSC on 80 for 7.   GINC, could have gotten a greater first innings lead had they not squandered a couple of opportunities. Their fielders dropped Massiah twice in the slip cordon off the bowling of medium-pacer Jermain Grosvenor in a lacklustre fielding effort during the morning session.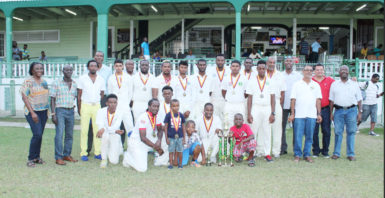 Akeem Redmon joined Massiah who was given another chance when on 24 and the two took the score to a 100 for seven in the 39th over.  Massiah's luck, however, ran out when former West Indies off-spinner, Clyde Butts rolled back the years to outfox him and had him caught on the mid-wicket boundary from a well-flighted delivery to reduce TSC to 104 for 8 in the 42nd over.
They were eventually dismissed for 123 in 52.2 overs with Butts (3-8) from eight overs and Suknanan (4-29) from 19.2 overs doing the bulk of the damage while Deswin Butts (2-24) supported in a clinical bowling effort. Massiah's 26 and Joshua Wilson 14 not-out from 34 deliveries were the main contributors with the bat for TSC. GNIC, with a first innings lead of 44, extended their lead to 73 at lunch with the score 29 for one after losing first innings top scorer Stephon Campbell (2) to off-spinner Wilson. Opener Marc Nicholson (17) and Kurt Lovell (3) ensured that GNIC tightened their grip on the game by not allowing any further wickets to fall before the break.
The two pushed the score past 50 in the 28th over after the interval. Nicholson, however, fell for 35 from 94 balls which included two fours and a six when he pushed a full pitch delivery back to off-spinner Singh to leave GNIC on 64 for 2.  They lost two quick wickets when Ryan Shun (06) fell to Azeeze with the score on 77 in the 32nd over and Premchan Sookdeo (1) meeting his demise with the score on 80 for 4 in the 33 over to give Singh his second wicket.
Ranole Bourne and Lovell took the total past 100 before Singh struck again by bowling Lovell for a well-crafted 40 from 95 delivers. He struck three fours and a six. The score at this point was 103 for 5. It was the `Singh Show' again when he dismissed Groovner (01) to get his 10th wicket of the match and he also removed  Bourne (13) to get his fifth of the innings. He then dismissed Suknanan (6) to get his sixth wicket in a nearly unplayable spell of quality bowling. GNIC were eventually dismissed for 138 in 58.2 overs with Singh finishing with 7 – 58 from 20.2 overs to follow up is first innings 6 for 29 ending the match with 13 for 87 which earned him the Player of the Match award. Azeeze 2-25 complemented Singh's efforts.
The two captains then decided to call off the match with GNIC having a lead of 182 runs and not enough time left in the game for TSC to chance their luck.
Around the Web