PORT OF SPAIN, Trinidad, CMC — Captain Carlos Brathwaite has stressed on the need for players to take more responsibility for their performances, following West Indies' 3-1 series loss to Pakistan here yesterday.
The Caribbean side produced another limp effort here to slump to a seven-wicket defeat at Queen's Park Oval — following up similar results in the opening game in Barbados last Sunday and the second T20 here last Thursday.
Several of the Windies' main players struggled badly in the series — especially with the bat — with veteran T20 batsman Kieron Pollard managing just 20 runs from three innings an Lendl Simmons getting seven runs from four outings.
Speaking after the final game, Brathwaite said it was important that good performances in a game were not outweighed by those players who were out of touch.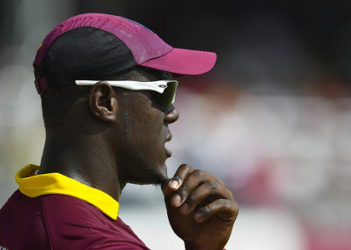 "In every team on any given day, two, three, four players max perform," the all-rounder told reporters.
"You hardly find a day when 11 players perform and we just need to make sure that the three or four players that perform on any given day, perform well enough to bring us over the line. The players that don't perform or don't have the best day, [they have to] make sure their bad day isn't as bad that it pulls the team into a negative light.
"I think the two or three players that performed in the games that we lost, performed well enough to bring us over the line but and the guys that didn't perform, performed so poorly that it showed."
West Indies looked out-of-sorts throughout the series with the only flicker coming in Saturday's third game when they pulled off an emphatic seven-wicket win.
The outcome was owed in large part to opener Evin Lewis's superb 91 from 51 deliveries as West Indies easily chased down 138.
Brathwaite said the trio of Lewis, Jason Holder and Kesrick Williams had done the trick for West Indies then but much more of the same had been required throughout the series.
"We have someone like Evin who scored 91 in the third T20, Kesrick bowling as well as he did, [Jason] coming back in the couple final overs — those three technically pulled us over the line," he explained.
"In the other three T20s, we didn't have the three or four performances that took us directly over the line and as a result we lost."
Lewis was the only Windies player in the series to score a half-century and get above 100 runs but even then, he struggled with just 20 runs in his other three innings.
Many of the senior players were guilty of reckless shots throughout the series and Brathwaite said there was a need for increased situation awareness on their part.
"I wasn't happy with the execution but when players come off, the same shots they get out with [but then] go over the boundary for six, we say 'well played, that was brave, that was brilliant,'" the Barbadian noted.
"As a management team we want to encourage players to express themselves. We just ask for a little more awareness than we have seen shown thus far in the series.
"It's for us to go back to the drawing board individually again, come back against Afghanistan, repeat the things we did well and improve on the things we didn't do so well."
West Indies are scheduled to meet Afghanistan in three T20s in June.
Around the Web