Heavyweight clashes highlight the semi-finals of the Milo U18 Secondary Schools football championships as two-time defending champions Chase Academy battle Sir Leon Lessons while Masters Academy will oppose the Morgan Learning Centre (MLC) at the Ministry of Education ground today.
Although both contests are expected to be captivating, the feature affair at 19::00hrs between Sir Leon Lessons and Chase Academy is expected to be a virtual final.
The defending champions have been imperious whenever they have taken the field. Boasting superb numbers on either side of the ball, their berth in the semi-final was earned via a lopsided 7-0 win over Pure Masters.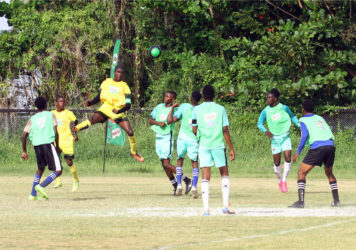 Despite only playing three games due to two walkovers in the group round, Chase Academy has scored 37 goals at a rate of 12.33 goals per contest.
Kelsey Benjamin and Nicholas McArthur have each netted seven goals while Rondell Peters and Ryan Hackett have each scored four goals while Jeremy Garrett has scored goals. Job Caesar and Malachi Adonis have each netted twice.
Defensively, the Parade Street side has been equally formidable as they are yet to concede a goal.
Sir Leon Lessons on the other hand stumbled their way into the final four after edging Bishop's High 4-3 on penalty kicks after a goalless draw in regulation.
The South Ruimveldt based side has scored 30 goals from five matches at six goals per game. They are led by leading scorer Adrian Aaron with 13 goals.
Meshach Barratt also provides a goal scoring outlet with six conversions while Omari James has scored three goals and Tyrese Forde and Dexter Blue two goals each.
On the defensive end, two goals have been conceded by their rearguard.
Meanwhile, MLC will engage Masters Academy at 17:00hrs. The John Street outfit has steadily improved with each contest sealing their semi-final spot via a lopsided 11-0 win over Carmel Secondary.
MLC has scored a whopping 43 goals, the most to date in the tourney, at an average of 8.6 per contest.
Leon Richardson and David Coates have scored nine and seven goals each while Orin Moore has scored five and Osafo Matheson and Chris Macey four goals respectively.
Carl Griffith and Daniel Clarke have also played their part with two goals apiece.
From a defensive perspective, MLC has been brilliant with only a solitary goal being conceded.
For Masters Academy, 28 goals have been registered by their strike-force which battled to a 2-1 win over a dogged Buxton Youth Developers unit in the quarterfinal round.
The diminutive Calvin Peters has scored eight goals while Tyron Khan and Andel Smith have scored three goals each and James Walcott, Ryan Dowden and O'Neil Glasgow have chipped in with two goals each.
Defensively, Masters Academy need to improve after conceding five times, at a rate one goal per fixture.
Upon the conclusion of semi-final round, the final and third place playoff will be staged at the same venue on Sunday.
Winner of the tourney will receive $500,000 towards a school project and the championship trophy while the second, third and fourth placed sides will pocket $300,000, $200,000 and $100,000 respectively towards a school initiative and a    trophy.
Around the Web