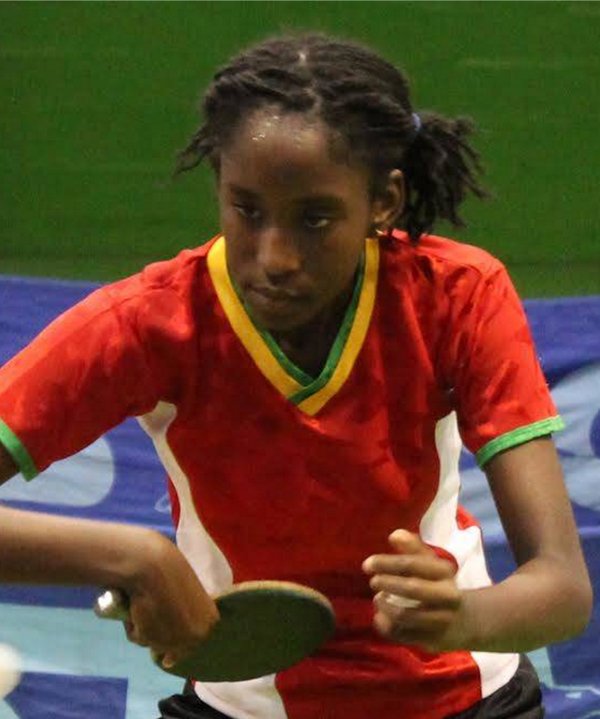 By Royston Alkins
Saturday and Sunday mornings for the average teenager are either spent in bed or in one of Guyana's shopping malls having a casual gaff with friends.
That truth, however, is not applicable to young athletes, especially those who aspire to greatness which makes it even more important to highlight those who amble or willingly leave the comfort of their beds to train in order to achieve their goals while also aiming to represent the Golden Arrow Head with honour.
Meet five young national table tennis players who, over the weekends, spent hours sharpening their looping skills ahead of the upcoming Caribbean Pre-Cadet, Cadet, and junior table tennis championship set for Guyana from next Thursday to April 19th, at the Cliff Anderson Sports Hall.
(Part one appeared in the March 28th edition while the second part appeared on March 31st) Here are their profiles.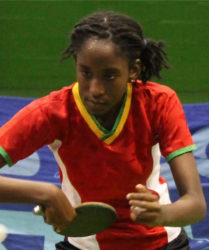 Name: Thuraia Thomas
Age: 11
Local titles won: 10 (Last being in 2016 in the Gold-Cup tournament)
Experience for Guyana: Jamaica 2016, USA (Joola) 2015/16
Category competing in: Girls under 15 singles, doubles and mixed doubles and team events.
Style of play: right hand – forehand offence and backhand defence
Strengths: forehand loop
School: Marian Academy
Goals: "I would just like to play my best and come out successful."
Name: Terrence Rausch
Age: 15
Local titles won: 1
Experience for Guyana: Jamaica 2013, Guyana 2012, USA 2016
Categories competing in: Boys under 15 singles, doubles and mixed doubles and team events.
Style of play: right-hand attacking
Strength: forehand loop
School: Richard Ishmael Secondary
Goals: "I'm working hard to compete and gain a place in all my categories to qualify for Pan Am Games."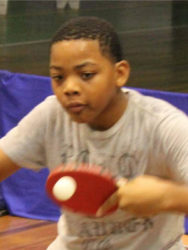 Name: Isaiah Layne
Age: 12
Local titles won: 13 (last one, Doubles 2017)
Experience for Guyana: Trinidad 2013, USA 2015/2016, Jamaica 2016
Category competing in: Boys Under 15 singles
Style of play: Left-hand attacking
Strengths; looping
School: Saint Stanislaus College
Goals: "I'm aiming to go on the A or B team and bring first or second in the tournament."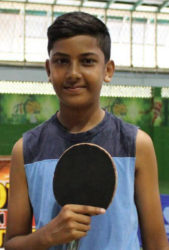 Name: Brandon Jaikarran
Age: 14
Local titles won: 2 (2016 in under-13 singles)
Experience for Guyana: Guyana 2013, USA 2015 and 2016
Category competing in: Boys Under 15 singles, doubles and team events
Style of play: Right-hand defense
Strengths: Serve and backhand
School: Queen's College
Goals: "I want to better my game and come out victorious."
Around the Web