The 'Green Machine', the national men's 7s rugby team will look to transform into robot mode beginning tomorrow when the three-day Cathay Pacific /HSBC Hong Kong Sevens tournament kicks off in front of 120,000 rugby-crazed spectators.
At the tournament, the local outfit which will look to smooth out as much wrinkles as possible in an attempt to be promoted to the HSBC World Rugby Sevens Series in 2017/18.
The World Rugby Sevens Series Qualifier 2017 tournament features 12 teams, two from each of World Rugby's 6 regions. The winner of the Qualifier tournament will be promoted to the HSBC World Rugby Sevens Series in 2017/18.
Guyana is seeded last in pool G with Spain, Papua New Guinea and Uruguay.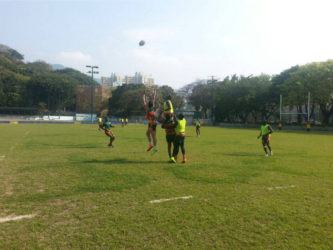 The local ruggers have an outside chance of making the last 8 as the second best third place team in the 12 teams tournament IF they can defeat Papua New Guinea, keep their loss to Spain and Uruguay to not more than 24-0 in both matches.
Defense will be the main element for victory or holding the opposition in check since the unit should have no problem scoring with fleet-footed former national sprinters, Blaise Bailey and Patrick King on the wings.
The tournament has been firmly established as the world's premier event of its kind and one of the most popular annual sporting events in Asia. The Hong Kong Sevens tournament attracts some of the world's greatest rugby players and thousands of fans from every corner of the globe to the magnificent Hong Kong Stadium every year.
With fast and furious rugby action combined with a carnival atmosphere and world rugby's largest prize purse, the 2017 Cathay Pacific /HSBC Hong Kong Sevens will be an unforgettable three days for ruggers.
A raft of initiatives and entertainment is on the cards for spectators and around the world in 2017 as the rugby world again focuses on Hong Kong.
Live Streaming at Worldrugby.org.
Around the Web