Barring minor improvements to logistics and addition of equipment, Guyana has reached the IAAF standard and has the green light to host the South American Junior Championships in June.
These and other details were disclosed yesterday during a press briefing at Olympic House where the Athletic Association of Guyana (AAG) top brass met with IAAF International Technical Official (ITO), Giovanni Cardona.
"I got the feeling that's it's going to be a really great South American [junior] Championships. I don't see any big obstacles that can stop that," Cardona declared.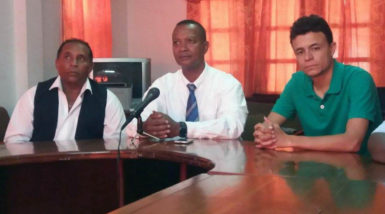 The Colombian added "We only need some support, and that will be it, you already have the track, you already have the human resources, we only need a little push up. We need to put on our best effort, put on our game face and game on. It needs to happen."
Cardona, who has spent the last few days streamlining Guyana's preparations for the June 3-4 meet, from all indications has been impressed with what he has seen so far.
To date, he has visited the National Track and Field Centre at Leonora where the meet will be held, the Ramada Princess Hotel where the athletes will be accommodated. He said it has been a great experience in the 592 so far.
AAG head, Aubrey Hutson disclosed that minor renovations will need to be done at the track, while additional equipment will have to to be sourced for those events which Guyana does not traditionally compete in.
"We need a little bit of carpeting in the call room, we must have the pole vault equipment in and the pole vault landing mats, we must have the cage for the hammer and discus put in place. We also need to import some more implements, like javelin and discus and shot put, but everything else is in place." Hutson related.
The AAG will also be tasked with catering for in excess of 80 officials, for which Cardona is expected to return next month to train.
Also present at the press briefing was Chairman of the National Sports Commission (NSC) Ivan Persaud, who emphasized government's commitment to supporting the multimillion dollar championship which is scheduled to attract more than 300 athletes from 12 countries.
Around the Web