Usually, when the calendar flips to April, the Guyana Bodybuilding and Fitness Federation Inc. (GBBFFI) gets ready to raise the curtain on its calendar of events with the National Novices Championship.
This year will be no different.
According to the new president of the body, Coel Marks, this year's staging of the annual fixture is set in stone for April 22 at the Theatre Guild in Kingston.
Marks added yesterday that the show has received tremendous feedback from athletes from the city and the outlying areas both male and female.
Said Marks: "This year's novices promises to be a great representation of bodybuilding where we'll see adequate representation from all the outlying areas of Guyana, notable Berbice and Linden."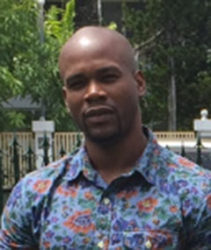 The GBBFFI head disclosed that in excess of 20 athletes seven of which are females have already registered to display their rippling abdominals, well-defined quadriceps, sculpted arms, stilettos and bikinis.
Marks noted that eight of the athletes have registered for the popular Men's Physique class.
"That has the biggest returned applications so far."
This year's event promises to be of a higher standard since many of the athletes have been through months of gruelling contest preparation.
When interviewed, the gladiators promised to bring their 'A' game to the stage.
A thrilling night is envisioned.
The athletes will be placed in the customary categories, namely: under 21-years, flyweight, bantamweight, lightweight, welterweight, light middleweight and heavyweight along with the two categories for the women.
For the Ms. Bikini Contest, judges will analyze body shape, tone, symmetry, complexion, poise, presentation and overall condition. Also, they will be looking for a fit, toned feminine body that displays proper conditioning. Contestants will be judged individually and in group comparisons.
The show will also feature 2015 Flex Night champion, Godfrey Stoby. He will be the special guest poser for the night.
Admission to the venue will cost $1500.
National seniors, the flagship bodybuilding event is tentatively set for late August at a venue to be announced.
Around the Web