A monumental clash, months in the making, will culminate the Milo U18 Secondary Schools football championships tonight as two-time defending champions Chase Academy battle fierce rivals Morgan Learning Center (MLC) at the Ministry of Education ground.
The matchup at 19:00hrs will be the fourth official meeting of the teams, with Chase Academy possessing a perfect 3-0 record against the John Street institution.
Both teams sealed their places in the final following a hard-fought semi-final wins with the champions downing Sir Leon Lessons 2-0 and the challengers controversially edging Masters Academy 2-1.
In terms of the numbers during their previous meetings, Chase Academy has scored eight goals while MLC has only scored three times.
Examining the statistics of this event, Chase Academy will enter the fixture as, the favourite with sublime numbers on either side of the field.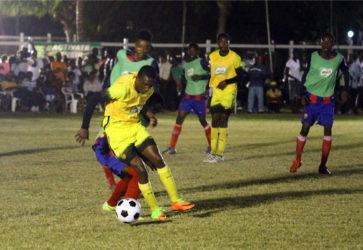 Although MLC possess the leading strike-force with 45 goals in six matches at a rate of 7.5 goals per game, Chase Academy, despite only playing four matches due to two walkovers, has recorded 39 goals at a rate of 9.75 conversions per contest.
The duo of Nicholas McArthur and Kelsey Benjamin have tallied seven goals apiece, while hero of the semifinal Job Caesar, alongside the foursome of Rondell Peters, Ryan Hackett,  Jeremy Garrett and Malachi Adonis have scored four, four, four, three and two goals respectively.
For the MLC, Leon Richardson and David Coates lead the way with nine and seven goals each. Support has come in the form of Orin Moore, Chris Macey and Osafo Matheson, who have tallied five, five and four goals respectively.
Carl Griffith and Daniel Clarke have also chipped in with two goals each. On the defensive end, the Parade Street unit has matched their offensive talents as, they are yet to concede. Similar to the attacking numbers, MLC also plays second fiddle to the holders despite only allowing two goals.
Meanwhile, the third place off will pit Sir Leon Lessons against Masters Academy from 17:00hrs Although blanked in their semi-final fixture, Sir Leon Lesson has scored 30 goals in their six matches, with tourney leading scorer Adrian Aaron on 13 strikes.
Meshach Barratt has supported admirably via six conversions, with the likes of Omari James, Tyrese Forde and Dexter Blue providing three, two and two goals each.
For Masters Academy, Calvin Peters has scored eight times for an attacking line that has crafted 29 goals, with contributions of three, three, two, two and two goals each from Tyron Khan, Andel Smith, James Walcott, Ryan Dowden and O'Neil Glasgow.
On the defensive end, Sir Leon Lesson is superiors as they have conceded four goals to their opponent's seven concessions.
Winner of the tourney will receive $500,000 towards a school project and the championship trophy while the second, third and fourth placed sides will pocket $300,000,$200,000 and $100,000 respectively towards a school initiative and a trophy.
Individual prizes of Most Valuable Player, Best Goalkeeper and Highest Goal Scorer will also be awarded. The event is also sponsored by the Ministry of Public Health.
Around the Web