Digicel, one of Guyana's main Telecommunication provider, yesterday, provided a number of young and upcoming crickets with the opportunity to interact with a few of the senior West Indian cricketers in an effort to provide the youths with the opportunity embrace the ideas and concepts of West Indian cricket.
The session, which took place at the Guyana National Stadium, Providence, saw youngsters from the Demerara Cricket Club (DCC) and the Georgetown Cricket Club (GCC) engaging in a number of field drills facilitated by West Indian field coach Andre Coley who took the youngsters through their paces before giving the opportunity to interact with the team as they were keenly locked into the senior guys while they did some fine tuning for today's second Brighto Paints Q Mobile Cup one–day series.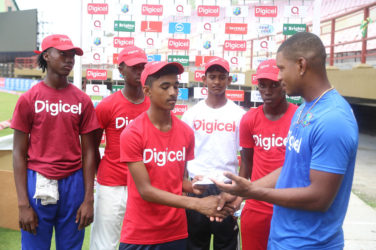 Digicel's Communications Manager Vidya Sanichara, speaking with Stabroek Sports indicated that the initiative is all part of the company's continued commitment to West Indies and grassroots cricket development in the region.
"Today, we have young and upcoming cricketers from two cricket clubs, DCC and GCC, just coming to have a community grass root activity with the guys to see what the guys they admire do because most of them aspire to reach these heights, so we're bringing them here to get a footing or steppingstone to actually get the opportunity to experience West Indies cricket. So we facilitated the meeting so the guys are here to observe and learn as much as they can."
Meanwhile, Kieran Powell who is all too familiar with similar developmental approaches lauded Digicel's efforts and expressed.
"I think it's important that you give back to the younger kids because obviously they are aspiring to be future first-class and international cricketers as well and you know we get to travel the world and experience so many different things and I think sometimes we take it for granted that and get complacent, you know, in terms of forgetting that we have to help the next generation as well so I just wanted to play my part, Powell explained."
Powell at the time would have just wrapped up an interactive session with the youngsters where he also handed over a few complimentary tickets to the youngster to enable the lot to come out and watch today's match, complements of Digicel.
Around the Web