West Indies' prodigal son, Kieran Powell who, in a major way contributed the team's historic run chase in Friday's Brighto Paints Q Mobile Cup One – Day curtain raise with a fighting half century, has indicated that the Caribbean side is not prepared to squander one-nil lead during a pre-match interview ahead of the second ODI.
Powell, was at the time speaking to the media and said: "Ahh, yeah it's very important," he noted while responding to questions surrounding the importance of going two up in the series.
"That's one of the things we addressed in last night's team meeting, obviously we have a win we savor it, we celebrate it but we don't want to get complacent and think oh we have a win and end up losing the series two, one, so we have to come out tomorrow (today) and play as if the series is nil, nil and try and get a win a potentially get lead which will be an assailable lead in the series" he added.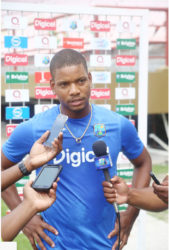 Touching on his personal performances thus far upon his return to International cricket, the elegant left-hander, was candid about his reluctance to accept his numbers so far while also pointing his willingness to put in the hard yards.
"Ah, I'm not satisfied with my return overall but everything in life is a process and you can't run before you crawl. I'm obviously taking gradual steps and I'm thankful for a half century. Every run that is made in international cricket is a hard run earn so I'm thankful for that and hopefully in the matches to come I can go on and get better performance as well."
Powell, in what appeared to be an optional net session, yesterday was seen working with the team's batting consultant Toby Radford, tightening a few technical aspects of his game ahead of today's curtail encounter against the Pakistani's in the second match of Brighto Paints Q Mobile Cup one–day series.
The 27 – year old, who is a student of the game who was exposed to understanding the technical intricacies of the game from a tender age, will know the Windies job is half done and they need to put in a clinical performance, today.
Powell, who sports a calm and cool disposition, will also understand the importance of backing his performance in the first match with another good showing.
Around the Web