With only five days away from the start of the Flow CARIFTA Games in Curacao, the local outfit, which is scheduled to depart Guyana on Thursday, still needs additional funding to blanket the cost of expenses.
According to President of the Athletic Association of Guyana (AAG), Aubrey Hutson, the 15-member contingent of athletes and officials, still require in excess of $1.5m.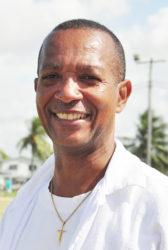 'We would like the Government of Guyana and corporate entities to help us to fill that hole."
Hutson disclosed that the tickets for the contingent has been secured through "a special credit situation put in place" but noted in the same breath that "unless we get government and corporate support, we will be in a difficult situation when the athletes return."

He emphasized "This can really affect us for future championships."
The full squad selected to travel to the 46th edition of the prestigious Games is listed below.
The appointed coaches are Johnny Gravesande and Moses Pantlitz while Yvonne October will act in the capacity of Manager.
The party is set to depart for the Games in two days which will be staged April 15 to 17 in Willemstad.
Around the Web